19-24Feb09 -- Deloused from West bias, rinsed for data, and told straight as it is. (Mouseover flags for info)

Belarus -
Recognises Abhazia and South Ossetia. Seeing West diplomacy against Russia topple, EU chastised Luscenko with vulgarisms and threats.

Bolivia -
Ultimatum delivered to French oil vampires to do good on obligations or else.

Canada -
Amalgamation of business and state continues, as in any West province, as post office, rails, airport security go on garage sale.

Ecuador -
Raids US fraud Stanford wank. "Surprising" links twixt Stanford and drug trade emerge.

EU -
Ignoring stomped-down constitution moves ahead with the creation of 60K EU Army. If this isn't enough for the captive states to run like hell...
- Current prez, Klaus of Czech Rep, tells Brussels to shove the "freedom" pretense of the dictatorial EU. Looks like no EU flags will be waving over Prague anytime soon.
- New attempt by West to prod Russia is underway: EU begins vying for Belarus (This days after they told Luscenko off. Clearly West diplomacy is in the same state of disarray as West econ.), Ukraine, and Georgia.

France -
430K strong riots escalate to revolution force in Guadeloupe: Collective Against Extreme Exploitation (CAEE) opens fire on French authorities. "If Paris wants Beirut, they've got it" says a revolutionary.
- Uprising against the colonist France spreads to Martinique, French Guiana, and Reunion Island. Looks like a few Beiruts actually.
- Battered and fearful Sarkozy offers 2.6B, one time pocket change to each revolutionary with some tax cuts hastily thrown in in desperate attempt to stop the Caribbean revolt moving to France, to Paris, to his bedroom.
- 70% pretty angry, 60% expect massive strikes, and 40% want them.
- Last revolution gave us "Fraternite, Liberte, Egalite". Here's contemporary revolution French for you: "Casse-toi, pauvre con" meaning "Get lost, loser".
- GDP shrivels 1.2% (4Q08), unemployment touches 8% and keeps rising.
- State cops attack Sorbonne students calling for solidarity with uprising colonies, for "unification of struggles", and "people occupation of places of power and major roads". BTW, revolutions typically begin at universities.
- Opening a mil base in UAE. Apparently, the 500 troops in Abu Dhabi are gonna help assure the 50km-narrow Hormuz remains open and functioning in case of war with Iran.

Germany -
Hour after Swedish Saab goes bankrupt, the bust Opel screams for justice demanding 3.3B EUR.
- German econ minister apparently read this blog and found out that Obama has a cash printer. He's on his way to USA to get the 3B printed.

Greece -
Revolution continues: trucks block borders and roads (blockade called off on 23Feb); TV station under open fire in Athens; strikes and protest marches in Athens and Salonica; barricades make debut in the streets; clashes with police using flash grenades and tear gas; march on parliament; doctors on strike.
Triggered by the state killing of A Grigopoulos in Dec 08 Greece has led the revolt against the tyranny and madness of NWO.

Iran -
Obama does another 180 degree flip and urges attack on Iran. It must be stated that USA signed NNPT which grants Iran nuke power. But violation of treaties is never among US chief worries.
- Will prosecute int'l crimes now like the attack on Gaza.
- Bushehr, 1st Iranian nuke power plant, goes online.

Iraq -
USA admits to 10K wrecked war-cars. Crew is typically 3-4. Relatively modest estimate confirms that just based on this single Pentagon data, US losses in Iraq eclipse their official numbers.

Ireland -
120K fill the streets in Dublin on Sat, 21Feb joining the West revolt.

Israel -
Gaza terror campaign continues: jets, gunboats, and tanks hit Gaza City and Jabalya.
- Evicting Palestinians from their homes in East Jerusalem to expand illegal occupation.
- Missile attacks Lebanon.
- Arab League enquiry into war crimes in Gaza is underway.

Japan -
Toyota loses 5B but paints only 20% shriveling in 2009. 20%? LOL
- 65K jobs gone in Jan.
- Nissan will cut 12K jobs more and move out of Japan.

Kyrgyzstan -
Eviction notice delivered to USA. USA has 180 days to pack up and get out of Central Asia. Desperate USA in Tashkent, Uzbekistan, weaseling back in after USA got the boot there in 2005. This is a big deal to Washington since no Central Asia hold, no US foreign policy.

Latvia -
Governance collapses.

Pakistan -
Unhappy with low bribe level (it got ~3.5B from Bush II and NATO) asks USA for a raise on par with "Marshall Plan" for "fighting" the Taliban.

Russia -
Gazprom truly global. LNG plant on Sakhalin cuts out middlemen and turns the entire world into Gazprom market. As ASEAN market is slated for 25% expansion over next decade, the 65% Moscow-dependent EU is told it will have to compete for Russian gas. Yes, that means that EU's looking at gas price hikes.
- Gazprom signs 25B deal with China.
- Problems with USA over nuke treaties arise. US proposal not submitted and difficulties expected as USA loves playing small print games in which nukes in stockpiles aren't really counted as nukes. This after the very recent desperate Washington plea in Moscow to disarm 80%. What Washington really wants is for Russia to disarm 100% so that the West can finally pounce on it again.
- Sinks Chinese boat.
- Gets rid of visas for Serbia.
- Not recognising Kosovo.
- Sukhoi's Superjet Int'l office opens in USA.
- Changes 1992 accord to begin exporting nuke mat'l/tech circumventing IAEA pesky approvals. First client is India. This is a blow to Washington since they've tried nuke-dazzle India for years now.
- Beats USA out of US own weapon market adding Qatar and Kuwait to its weapon/tech clients.

Somalia -
Ceases Greek ship. Some 40 ships get taken a year in Somalian waters. West feigns shock calling this "piracy". West is always shocked reaching for inane euphemisms when their wars turn on them.

Spain -
Judges on strike.

Switzerland -
Right-wing part of gov't seeking "retaliation" on USA for plundering Swiss bank secrets. Proving that Swiss bank accounts aren't secret is as good as scrapping the lot. In sum, no secret accounts, no Swiss. But UK is already underway searching the accounts. The US/UK mad cash hunt could easily precipitate the end of Swiss banking.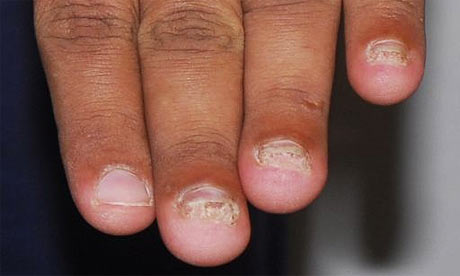 UK says it does NOT condone torture. BULLSHIT! These nails were "removed" by UK.

UK -
Follows USA (how else?) seeking to make some cash by plundering Swiss and Cayman tax hives.
- Report on UK tortures coming out next month. Watch it suicided like D Kelly or lost like thousands of US torture vids that US court had ordered publicised in 2005.
- Following USA mad cash printing, Brown pumps another 500B into the prolapsed island.
- US concentration camp survivour is coming home from US captivity. US mind-stopping cruelty of continuous beatings and senseless torture exposed and proven.
UK says it does NOT condone torture. Have a look at the brave UK troops take on kids.

Ukraine -
Gives heads-up to EU that it can't pay for Russian gas imports. Ukraine's only source of income is the 150M/mo from pipeline rent. No pipeline, no Ukraine.
- Protests in Crimea against NATO renewed attempt to have another go at chipping away at Russia.
- Kiev protesters tell Yuschenko, the US lame duck puppet, to pack up and go to USA.
- UK Londonderry battalion trains proper technique of kicking down doors for their upcoming Ukraine mission. Yes, EU is desperate to have gas shut off. Ukraine seems likely to be the next Georgia, West proxy in attack on Russia.

UN -
Draft resolution declaring Israel "occupying state" with "racist policies" is tabled. Let's see the vote...
- UN/US fissures continue appearing. IAEA backs Iran's no capability for nuke bombs. But even so, if the entire West has nukes, why can't Iran? Anyone?

USA -
The wings of the mighty union are coming off. Oklahoma house and state of Washington vote for sovereignty.
- While USans are taxed even on downloads and tax filings, Obama unveils a new 3T bailout plan comprising of 2T crisp new print. Somehow is also plans to halve US deficit. Now, sure US baboons struggle with concepts like letters and numbers, but this? How is there not a single brain cell to question the Vegas sideshow magic of reducing obligation while borrowing more.
- GM stock hits 70-yr low. Let's smarm this up so it doesn't sound so sad. GM stock is as high as it's ever gonna be.
- Obama, after promising "no wars", moves war inside Pakistan.
- Snuck into the recent 800B bailout, Washington takes charge of US health now. No surprise then that cases of "assisted suicide" offers instead of approving available treatment are already USA reality.
- Obama staffs up his dept with Rhodes Institute agents from UK. This isn't as odd as it feels, since Rhodes Institute agenda includes US/UK reunification, or should we say "official" reunification.
- Some fun numbers give credibility to Putin's Davos outline for "US-free World": GDP shrivels 4% (Q408); Food bank demand up 30%; 200K stores incl JCPenney and Sears go bye bye; 5M unemployed per record (USA doesn't track "unemployment" however but only "unemployment benefits" meaning that once benefits end, the unemployed is no longer tallied so the real US unemployment is much larger since 5M lost their jobs in just 2008.)
- Federal gov't shuts of 100% of water for California.
- Obama stops all ammo/gun import to USA.
- USA troops seen in drills to repo guns house by house.
- GM, Swedish Saab office, topples.
- Obama does another flip and moves ahead with Poland/Czech nuke trench idea.
- Citigroup forces USA to buy 40%. Biz takeover of gov't is a classic textbook definitions of fascism.
- AIG, 80% nationalised, in red again. This time it's 60B.
- Amnesty Int'l confirming Israel use of phosphorous on civilians in Gaza, calls for USA to cease weapon export to Israel.

Venezuela -
Revving up oil production to 3.4M bpd from 3M over the next years.
- Execs of Stanford, USA wank implicated in 8B fraud, suddenly wanted to leave Venezuela but Caracas persuaded them to stay awhile.
...to be cont'd as it all piles up.