7Aug-23Aug -- Sinking like the Corexit-sprayed oil slick, west goes bonkers ratcheting up its HAARP WMDs against everyone everywhere achieving the seeming destruction of the jet stream and thus our weather. Funnily enough though, a typical miscalculation has strayed into this diabolical plan of the beast. The first-line victim of the resulting food shortage shall be, of course, none other than the west neanderthal. (Mouseover flags for info)
Abkhazia -
Deploys S300. For a laugh, Frankensteins express "concern".
- Sea borders protected by Russian fleet.

Afghanistan -
USA's back to trying to entice Talib with more reconciliation sweet talk. Didn't Petraeus vow total military victory just recently, for which he got the promotion to lead the west child murdering legions?
- USA murders 6 incl 3 civilians, 22Aug.
- War report: 30 invading insurgents killed; over 6 tanks destroyed; 1 chopper downed; 3 NATO occupied places missiled.
» See more at theunjustmedia.com

Bolivia -
In preparation for the beast, extends mil training to civilians.
Evo Morales confirms that USA's objective is to seize oil & nat'l reserves of S America.

China -
Floods across 28 provinces kill near 2K, affect 140M, break over 50 reservoirs, destroy 875K homes, force 10M into evacuation, and destroy 9M hectares of farmland, as of 7Aug.
- Clocks record rainfall though 7Aug.
- Trade surplus at near 30B USD/Jul, marking a 1,5 yr record.
- As Japan sinks with its masters, west admits that China has at last surpassed the once big island econ but the BBCNN media whores still stubbornly maintain that Germs are #1, which, of course, is as laughable as Busch II's self-vapourising Boeings, Bliar's Loondon77, Greek bailout, or comrade Obama saying there is no oil in the Gulf of Mexico.
- Dumps ~100B USD or 11% of USA debt/Q2. (21B USD just in Jun) Sideline: USA debt makes up 35% of China's diversified foreign reserves. Therefore, USA's shrieks that China can't afford to dump the 830B USD just to burn USA's rump are in efficacy on par with west "tougher" sanctions on Iran.
- For fun, China's dump isn't the only thorn in USA rump for Soros and the rest of the USA stock wolf pack have all laughably been shadowing China's d0llar-dump policy managing to emaciate over 40% of Soros' funds investments and withdrawing an aggregate of 33B USD from USA stocks.
- Despite the loosening of Yuan/dullar peg, Yuan still drops 2%/Jun. West grits teeth in anger for it had expected a sizeable rise.

Egypt -
Intercepts Israeli boat peddling arms, 15Aug.

EU -
Wheat prices rise proportionally to temperatures in Russia to 236 EUR/tonne, or by some 13% by 5Aug. Britz media whores now speak of the possibility of food riots coming to west.
- Vaticunt issues thanks to USA for dropping its prosecution of Vaticunt pedophile rapists. No, the festering west disease couldn't be invented.
- Aggregate production keeps shriveling even in Q2.
- Factory output shrivels 1/10th%/Q2. For fun, they had anticipated an "increase". No quips!
- Inflation admitted at 20 mo high. Didn't they fight deflation a few days ago? Sideline: All west claims are total rubbish. They've always been but since 911 they've managed to increase even that. Specifically, to inflation/deflation: falling prices have nothing whatever to do with deflation, though this is precisely what the west gang of "economist" mindrapists base their deflationary spew on; and CPI is no indication of inflation, which is what they apparently used here. Inflation has to do with the size of the currency base, not its relative buying power and that has been inflated by 43T USD/EUR in the last 19 months across the west Atlantic-molesting cesspit.

EU-Franks -
France begins physical ethnic cleansing shipping out the unwanted ones by rounding them up, stripping them of citizenship, and deporting them en masse to Bulgaria and Romania. France however maintains: "France is not a racist country."
- Auto production shrivels 7,4%/Jun.

EU-Germs -
Industrial production shrivels 6/10th%/Jun. They're "surprised". No joke! They expected 7/10th increase.
- Claims Q2 growth. Clearly they "erroneously" added the 750B EUR, supposedly given to the Greeks, to their own GDP. This is exactly the same kind of BS like west claiming Germs are the biggest economy on earth.
- Frees an Israeli caught for faking passport who also happens to be wanted in Dubai for assassination. Fake passports, assassinate, rape kids, torture with USA fiends, murder civilians in Afghanistan, all allowed in west... but question the state laughable dogma and go to jail. That's what the west frecklies have for "democracy" and "freedom" today and they don't even seem to mind.
- Saxony drowns in floods.
Can someone cue up the Brandenburg Concertos?

EU-Greece -
GDP shrivels 1,5%/Q2 or 3,5%/yr. How so? Wasn't the bailout suppose to prevent just this? Well, so long as the near trillion Greek bailout went into the right wallets.
- Workers (age 24 yrs and below) clock 33% unemployment.
- Overall unemployment admitted at 12%.

EU-Romania -
Under another IMF rape assault as the west beast demands another 75K jobs zapped by the end of 2010. The first round of poverty measures have zapped 30K and upped VAT to 24%.

EU-UK -
Unemployment reaches 2,5M. They're now counting part-time as full time.
- Long term unemployment (unemployed for 1yr and better) at 13 yr high at 800K.
- Governance plans to remedy this situation however by zapping 600K jobs more over the next 5 yrs to comply with the first round of IMF diktat.
- Banksters issue a threat to governance: screw with limiting our bonuses and we'll leave the drizzly isles. Yes, the west war juntas are at each other's throats.

Iran -
Like China, dumping EUnuchro and Dullar from its wallet.
- Comrade Obama's sanctions further unify Iran and Syria, beside others, as Iran begins gas export to Syria.
- Mutual business investment grows among Russia, China, Turkey, Iran, and India -- all courtesy of the west new "tougher" sanctions.
- Russia delivers N fuel and Bushehr reactor comes online, 21Aug. BTW, Russia is still "undecided" on the S300 delivery, but Bushehr alone has left west fang scraping loud enough.
- Tests S2S missile.
- Unveils own fighter drone.
- Completes some 30% or 900K km of the Pakistan gasline, a project, which west tried so hard to prevent.

Iraq -
» See
warnewstoday blog
and
heyetnet
for war news.

Japan -
GDP shrivels to measly 4/10th%/Q2 from 4,4%. They predicted 2,3% growth. No joke!

Lebanon -
Tells USA to shove their "aid" after USA condoned recent Israel border molestations.
- Iran and Syria re-iterate their mil support for Lebanon in case should west attack.
- Iran further offers Lebanon mil aid.

North Korea -
Floods destroy near 15K hectares of farmland, thousand homes, and hundreds of firms.

Pakistan -
Floods ravage 650K homes, 132K km2, affecting 13M, and killing over 1600.
- NATO supply convoy destroyed.
Pakistan too suffers the HAARP destruction of the jet stream.

Russia -
Halts wheat export, 15Aug, until 31Dec plunging west food-dependent market into panic as west food prices rise.
- Plane routes disrupted by 2K km long cloud of smoke from fires.
- 7K hectares of fires in 11 of 14 districts under control. Some 10M hectares have been destroyed in fires.
- Freak weather due to the split of the jet stream pushes temperatures in Moscow to 40C killing some 5000.
- Lukoil with China's oil venture begin fueling Iran again. Who could've achieved more unity among the Freeworld than the west "tough" sanctions?

South Korea -
Planning yet another war games for Sep with USA masters in their endless attempts at provoking China. Does west really think it could handle the situation should they be successful?

Switzerland -
Refusing to obey comrade Obama sanctions, clinging for its dear life to the 18B EUR gas deal with Iran. Let's hope comrade Obama was serious about enforcing the sanctions and will shut the gas taps, which are keeping the disobedient Swiss Vaticunt guardsmen warm.

USA -
Fan/Fred, USA governance mortgage firm, which has cost the baboon ~1T USD to date, needs another quick 150B USD to stay afloat a bit longer after posting a 9B USD loss/Q2. Governance claims they have no clue why this prolapse has occurred. No joke! Hopefully, this cannot be said of the NBN readership, which knows that the west unavoidable terminal prolapse, signs of which are celebrated in NBN's, stems from the masterful mid-2006 petrodollar nuking.
- 113 banks laid to rest, 20Aug. That's a bank going belly up every 48 hrs.
- To keep the food stamp lot from swelling too much, comrade Obama deftly drains 14B USD, some 13,6%, from the programme, which is keeping some 41M baboons alive now. This is the same kind of number masturbation, which is employed in reporting the USA unemployment, war casualty,... well, and everything.
- Comrade Obama makes 26B USD cuts to USA medical care programmes to apparently fund his wife's whim programme. BTW, this is the very definition of Ponzi. Oddly, the baboon remains calm.
- Comrade Obama prints 3B USD for elite banks to "fight" foreclosures. Now, how does giving cash to loan underwriters fight foreclosures? It doesn't! It's just another typical west scam/deceit/crime like bailout, democracy spreading wars, magically disappearing oil spill, and.... well, everything.
- Trade deficit grows by 8B USD/Jun. The west media whores label it as "unexpected".
Spare a moment and breathe in this beautiful work of art showing USA monetary base through 2009. Yes, it clearly outlines how USA, instead of printing newspapers, has gone into the lucrative business of printing cash. Right now, the cost of the west idyll pretense runs about 1M (USD/EUR mix) each and every second 24/7, as they say. Just during your reading this single blip, the west has probably had some 6-8 million pumped into its corexit-filled veins to plod on in its death bed.
- 131K baboons zapped from jobs/Jul.
- Pentagram joins the wonderful job-zapping spree with axing ~6K jobs.
- Just in 2009Q4, USA had zapped nearly 7M baboons.
- Bankruptcies clock 5 yr high record with 422K filings/Q2. That's incidentally a growth of 9%/Q and 11%/yr. Not bad considering 2005 revamp of bankruptcy regs to make them more difficult by Busch II.
- Personal bankruptcies grow 21% and biz ones at 9%.
- No wonder then that baboon pension raiding is at 10 yr high. Watch comrade Obama figure out how to stop baboons from raiding their own cash now.
- July deficit at 165B USD. Isn't it fun watching someone who can't control own budget dictate someone else's fiscal policies?
- Debt-to-GDP at 95% and climbing. The same applies for the other west side of the Atlantic, BTW. But it doesn't stop the west creatures from blaming Greek sensible debt-to-GDP ratio for the west-wide rot.
- 93K homes repo'd from the baboon/Jul. That's an increase of 9%/month or 6%/yr. Selling tents to the baboon could be the next big business with west.
- Comrade Obama quickly prints 21B USD to bandaid up various state lacerations to keep the states from rumbling.
- Does it sound like USA is basically over? That's cuz it is. This should be no surprise to the NBN readership but now even the IMF vampire has joined the NBN choir coming clean on USA being bankrupt. IMF is now seeking total financial overhaul of USA or more simply put, econ system change including total revamp of retirement, health, work, and every aspect of the baboon's existence. Let's see who wins this one: USA central banksters or the west IMF cannibals. Current IMF demand is doubling of all taxes to start with 15% of GDP reduction in debt.
- Oddly, Bloomberg joins in too calling USA a 6 decade Ponzi scheme. Are the west media losers now shamelessly copying NBN?
- Certainly seems like it. Now even comrade Obama's budget office is screaming there's no recovery and warns of hard times. Of course, they don't elaborate that "hard times" mean total wall-to-wall terminal prolapse of all things and lands west.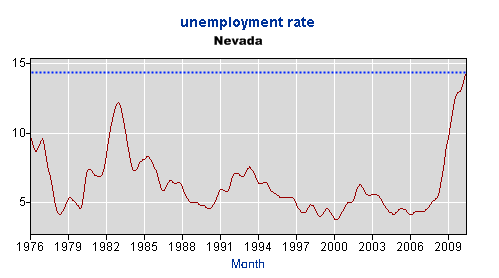 The capitalipigs have always been rather partial to hockey stick charts. Now they've got 'em -- everywhere! This 2009 hockey stick tracks Nevada's unemployment.
-
» T
reat yourself to this wonderful flash of unemployment thunderstorm gathering over the skulls of the baboon. It's priceless!
(They'll have to more than spray Corexit to hide this embarrassment.)
- 60+ die in clashes on USA/Mexico border, early Aug.
- Comrade Obama begins militarisation of USA/Mexico border as 23 die on 15Aug.
- Gunbattles on Mexico border, 21Aug.
- Wyoming threatens comrade Obama with putting 550 hectars on the west-wide garage sale unless he starts paying for schools a bit.
- Califorlornia clocks 21% shriveling in baboon-to-baboon hovel sales.
- Colorado experiences a small baboon vs robocops skirmish.
- Certain municipalities across USA are shutting off street lamps and try auctioning off police choppers to stay afloat.
- USA prolapse doesn't stop comrade Obama however from giving Israel another 4B USD worth of fighter jets. Let's hope the tent-bound baboon appreciates this sweet love gesture.
- Suddenly befriends Vietnam, parking its warships there and imposing with nuke stuff there. Is west still running the lunatic wetdream of dominating Central Asia through its empty skull?
- Comrade Obama clocks another int'l embarrassment as he threatens Turkey to be nice to Israel or he won't sell Ankara his anti-civilian drones. It should be added here that days later, Iran had unveiled own drones making USA rabid threats as laughable as they're impotent.
Oil oozing out of ground in LousyAnna. Strange, isn't it? Didn't comrade Obama say there is no oil spill anymore?
- Oil rain reported in Minnesota. Oddly, the BBCNN whores do mention the new death phenomena but claim they have no clue what's behind it. One couldn't make up the psychosis, which defines the west cesspits.
- Dead fish adorn USA coastline from Texas to New York now, some 5K km. Get ready Norway and Britzies, you're next up. BTW, the cabal of west media whores link the massive fish die off to the resurrected global warming.
- No change in west's impotence in stopping the leaks, which means we're on day ~180 and that roughly means 2,4M tonnes of oil thus far and probably nearing 8M l of Corexit spilt into our oceans. This seems supported by oil-death-rain detected 2,5K km away now; with near 5K km of USA coastline edged with dead fish and tar; and 40km long oil plumes slithering beneath the media-friendly surface thanks to the Corexit bombing. The capacity of the destruction, which for oil is 10K X, thus far is then 30T l of water or total vivocide of our planet.
- Despite these simple facts, USA governance actually says there is NO oil anymore. No joke! Yes, like Boeings, oil now too apparently just vanishes in USA. Well, after 911, it'd be silly to expect any shred of truth from the west child-murdering and planet-vivociding frecklies.
- To prove there is NO oil spill, comrade Obama takes a picture swimming. Now, consider the acumen of the creature this photo op is supposed to convince that the 6 months of oil spill never really happened and you'll have a fair sample of the west disease.
-
» See more pics on this west vivocide here at NWO report site
-
» See spill tracking maps

Venezuela -
Restores ties with new Colombian prez Santos.
...to be cont'd as it all piles