29Sep-7Oct09 -- Suffering recovery like never before, the west patient falls deeper into fiscal coma right before our eyes. The bailout medicine coupled with the growing war lacerations turns the gangrened carcass more anemic each day. West media mindrapists are now at last administering the last rights with pathetic self-eulogies and sermons aimed to re-awaken the baboon's racism and xenophobic hatreds. The ultra right worms have waited for this moment to pounce on the prolapsed Baboonarium and turn it into a WWIII juggernaut -- much like they did with Germans in the 30s. But as opposed to the west war junta camera-obsessed fiends of today, it could be said, that Hitler, at least, had a shot. (Mouseover flags for info)
Abkhazia -
Returns fire on west-run Georgia terrorist border provocations, 1Oct.

Afghanistan -
West admits to losses of 10 insurgents, 4Oct.
- 4Oct, Canadian murderers kill 2 teenagers on a motorbike near Kandahar who were trying to go home.
- Week of 28Sep, USA murders 9 civilians in what's considered now "blind" firing of missiles in Helmand province.
Nothing's blind about the west attacks. West targets children deliberately.

Belgium -
No asset of west's shall remain standing. Prolapsed Opel plant has apparently been picked up on the west garage sale and will be moving to Russia.

Brazil -
Says needs to develop nukes. Sideline: When Iran started making nuke power plants, west began sputtering their rabid venom. When Brazil did it, west kept its long snout shut. Let's see what west does now that Brazil wants nukes. So far, there's been no response from Warshington. Strange double standard the saxonic monkeys have, isn't it?
- Car sales up near 20%/Sep y2y. That's up! Watch the west media whores spin sickly yarns of global "slowdown" nonetheless.
- Buying 10B USD worth of IMF bonds. What a reversal of roles within the last decade. Sideline: Brazil owed cash to the west fiscal rapist like the rest of the west-raped world, when west had cash monopoly and could afford the permanent rape. In 2005, Brazil settled the loans and stopped borrowing. 4 yrs later, the prolapsed IMF has-been depends on giant loans from erstwhile clients like Brazil. From here on, the west baboon works to make interest payments to Brazil, China, Russia, and other creditors. One must credit the petrodollar's nuking of 2006 for such glaring examples of the Freeworld's liberation from the harrowing claws of the west child-murdering pervert.

China -
On track to 8,5% econ growth/2009.
- Won't be joining the latest silly west quacking about Iran sanctions.

Colombia -
Does a slight about face on housing USA war troops on 7 bases. Apparently now, as per foreign ministry, Bogota only wanted USA intel, info, cash, and tech -- not USA troops. This is quite indicative of some internal, shall we say, persuasion, since this is not the deal Uribe had promised comrade Obama and for which he was decorated by Bush II with highest USA pips. Will comrade Obama now demand Uribe return the medals?
- Uribe troops attack FARC in Tolima killing 8.

EU -
Wants to send stooges to Abkhazia and S Ossetia.
- Launches Satnav, 5X better competitor to USA's GPS.
- Report admits Georgia attacked Russia in 2008 but no EUnuchs issue apologies for lying this long.
- Admitted unemployment at 9,5% across the board. Germany boasts near 8%; Spain maintains its lead with near 19%; and Ireland clocks 12,5%.
- UK and France give 4B EUR to IMF (Germany already gave in this round.) Sideline: The long since prolapsed IMF is running some 3,4T USD "writedown" issue. Oddly, the dump of the dollar isn't gonna come from outside but from within the west completing the irony of west farce, the ultimate farce as the most farcical farces go.
- Ireland changes mind and opens arms to the birth of Grand EUnuchia, a 27-state amalgam run by a single butcher.
- EU Home Office birthed at an amazing speed, only a day after the Irish referendum goes through and technically BEFORE the Grand EUnuchia will have been ratified by the remaining Czech council.
- NATO commander favours confrontation with Russia over North Pole Russian territories. Did they really learn nothing?
- Left dies. "In times of insecurity, the right has credibility" explains this 60 yr repeating phenomena for the west saxonic viper nest. Sideline: Left and socialists, beside all non-christianical religions, are now open targets and the scapegoat for the west prolapse. This is why the last days of USA have been orchestrated to fall under leftist, non-white, muslim, and possibly non-USA born regime. Well, west has been down this road before...
Although it quacks the same, the metro-homo coif Windows7 innovative touches around its clumsy 21st century edges should not be denied.

France -
Sarkozy on comrade Obama: "incredibly naive, grossly egotistical". The raised voices across the west cesspit are becoming a steady source of entertainment.
- Despite debt at 1,4T EUR or 86% of GDP, printing "Grand Loan" to take the edge of the 5 yr streak of deficits.
- Sidling up to Germany creating all sorts of schemes to knock UK powergrab of EU. Yes, west is all raised voices, ploys, and inner fun schemes now.
- Copying Brit mad dash away from USA to Libya for a bit of oil, Sarkozy gives 6B EUR to Kazakhstan for some oil and gas. Sideline: Indeed, west oil pumps are getting a bit rusty. The funny thing is the timing of the Grand EUnuchia. It's a bit late, isn't it? They're all at war with each other and covertly sidling up to anyone who cares to listen to their pathetic whinging.

Germany -
Angry with Ahmadinejad, threatens to walk out of UN if Iran denies Germans their psychotic genocidal crimes and evil. Yes, west takes a great deal of pride and delight in their unmatched evil. It's no wonder it's so protective of its blood-soaked satanic past.

Honduras -
State of emergency suspending liberties canceled, 6Oct, but the returned Zelaya and coup mongers standoff continues.

Iran -
Shows EU & Israel missiles just in case the west war fiends maintain course of collision.

Iraq -
Humvee missiled, Faluja, 26Sep.
- Batira base katusa attacked, 28Sep.
- Rawat base mortar shelled, 28Sep.
- Bakkara base mortar shelled, 30Sep.
- Occupying patrol IED attacked, Diyala, 30Sep.
- USA insurgent sniper attacked, Ramadi, 1Oct.
- USA insurgent IED attacked, Rushead, 30Oct.
- Occupying HQ shelled, Dawz (sp?), 4Oct.
See
warnewstoday blog
and
heyetnet
for war news.

Israel -
Blocks entry to Al Aqsa, 4Oct. Clashes erupt.
- Shoots a boy in the back, 4Oct.
- Land theft continues unabated.

Japan -
One small step for a voter but a giant defeat for west. New management seeks big changes in the USA-occupation deal of 1945. #1 - Japan's stopped fueling USA Afghan terrorist bombing missions. #2 - Japan with 0,7T USD loan to USA, is talking continuing lending in yens only. Stopping buying USA bonds or buying them in yens means the same thing to Warshington: hyperinflation woes. #3 - Doesn't want USA warships docked there. #4 - Wants USA fighters gone. Never before, considering the truth behind Pearl Harbor , not unlike 911, has Japan been on such a collision course with its occupiers. Imagine the phone calls the poor battered comrade Obama's getting about this one.
- Prices continue the dive shriveling 2,4%/Aug y2y. Watch for the "deflation" misdiagnosis yet again.
- Car sales shrivel 3%.

Mexico -
Drug growing in USA blamed on Mexican drug cartels. Apparently, the lucrative business has jumped the fence into Texas and Oklahoma. Note however that Oklahoma does not border Mexico.

Palestine -
Abbas, as effective now as Arafat in his last decade, suggests postponing action on the release of EU's report on Israel's war crimes.
- Hamas calls for removal of Abbas and everyone taking part in this crime. Don't hold your breath, Abbas has more west arsecrack to tongue before his traitor days are up.
This is white phosphorous bombing. Yes, west uses this int'l banned monstrosity routinely against unarmed civilians.
Gaza under siege.
To west, these aren't crimes. UK dumps war crime charges against Israeli commanders. USA rushes to support this vileness against the mean report finding Israel guilty of war crimes. There are no words to even begin to describe the west disease. But then again, there should be no surprise. West attacked Russia last year via Georgia and is still saying Russia started it. West claims they defeated Hitler while all along they created and aided him through 1945. West claims it wants peace but it's seeking either world enslavement or WWIII. There can be no sympathy for the freckly Sheehan-like war-mongering whores now, can there?

Poland -
Maintains they'll get the missiles from comrade Obama after all despite the comrade's public embarrassment on the matter. West is just bonkers now and unable to navigate through its own thicket of deceit.

Russia -
Medvedev sets comrade Obama's missile wanking straight by saying: "Obama's backtrack on Poland missile gambit is bold and constructive -- but only for USA."
- Boots Israeli diplo.
- Brings up the possibility of missile deployment in the Arctic.
- Taking over Renault-Nissan unless west pays the bill.
- Supports Serbia's case at the Hague scam court against the theft of Kosovo.

Saudi Arabia -
Mulling buying Russian missile batteries.

Turkey -
Tells west to deal with Israel's nukes first before talking Iran. "Israel has nukes and uses phosphorous," says Erdogan and rhetorically adds: "Why isn't that on the G20 agenda?"

UK -
Probably spurred by the west organ theft and traffic, prolapsed civilians are putting their organs on a garage sale. Brit kidney fetches some 25K-60K GBP at the moment.
- Deficit at 75B GBP.
- Mfg shrivels near 2%/Aug and is down to 49,5/Sep, increasing the marvelous trend.
- BritAir zapping some 12% of workforce, 1700 jobs. So the recovery and bailouts are working then.
- Mfg shrivels near 2%/Aug.
- Rejects war crimes charges against Israeli's commanders ordering Gaza genocide.
- Opposition feigns distress over the Irish referendum.

Ukraine -
Despite the hasty west loans, state gas firm defaults on eurobonds unable to pay the principal of 500M EUR. The fun bit is that it's costing EUnuchs more in the quick loans than if they just paid for the gas themselves.

USA -
NWO G20 orgy cleverly sidesteps the dollar dump talk by issuing castrate vulgarities towards Iran.
- Comrade Obama reinvades Panama setting up 2 mil bases.
- Comrade Obama is printing 636B USD for wars. After all, Pentagram needs 7K humvees right away.
- Comrade Obama caught in another int'l embarrassment pointing out a secret nuke site in Iran where there is none. Is Obama related to Powell in any way? Or are they all pathological liars?
- Building a nuke plant in UAE. Yes, the west war junta is skipping the town, aren't they? First they sacked the baboon zoo and now they're setting up themselves a pretty little artificial island paradise upon which to retire and reminisce about their NWO defeats.
- NY state tells health workers either take the USA-flu needle or you're fired.
- At the moment, 2/3 of parents against USA-flu vaccine. Watch this magically change as the needle nears, much like in the famous Irish referendum.
- Autism doubles since 2003. That's a 12% epidemic now. Add 48M illiterate baboons and 50M that read at a 3rd grader level and you've got... well, US of A, of course. This is why 911 went unnoticed.
- Comrade Obama begs Moscow to let USA have a few jobs in the 2014 Olympics.
- Money market guarantee pronounced dead, 18Sep, meaning there is NO safe place to keep cash in USA anymore.
- WorldWank joins Panarin with a statement: "USA econ power days numbered". Only took WB 3 yrs to sort of come clean.
- Unemployment at over 17%.
- Losing 11K jobs every single day including the weekends. Admits to some 8-9M non-farm jobs lost in the prolapse while the real number is around 15M. 6M jobs are admitted to be "long term" job losses or over 27 wks. Yes, the prolapse is terminal.
- 6 job seekers to 1 opening. The hunger lines are forming.
- Admits to fiddling with unemployment #s by just magically removing 571K off the unemployment list cuz they've given up seeking jobs. In the eyes of the west statisticians, that makes them "employed" somehow. Yes, west is an incredibly perverted beast down to simple numbers.
- 1st unemployment benefits seekers rise to 55K/Aug.
- Some 260K jobs zapped/Aug.
- Some 180K jobs zapped/Sep.
- GM assembly plant shuts down in Detroit. 1100 baboons join the "employed" stat.
- GM Saturn dies. Penske chose not to pick up the garage sale item after all and so 2400 dealerships and 13K jobs are dead. Comrade Obama rushed in threatening Saturn nationalisation or ladling the toxic burden onto the public debt heap.
- On track to 600 corporate defaults in 2009. The gangrene sectors are led by auto, chem, construction, and media.
- Econ shrivels 7/10th%/H1. IMF admits to USA shriveling in 2009 but boasts a rebound in 2010. That just for fun to highlight the delusions that are still gripping the west mindrapists.
- Construction sector is screaming for a "bailout" and tax breaks as unemployment rate in the sector touches 17%. It's amazing to note the stupidity of the USA creature here. Despite the prolapse signs, construction deals, usually taking 3-4 yrs, weren't stopped producing empty real-estate and an immediate sector crash.
- Apartment vacancies rise to 8%, or a 23 yr high.
- Commercial realty as dead as the dollar. Sales crashed 73%/2008. Adding 2009 continued prolapse, it's Beethoven's "Fur Lease" till the end.
- InkStop ushers in a trend of overnight bankruptcy. 152 stores and 550 jobs zapped without warning.
- California state, the motor of USA, is prolapsed admitting to over 12% unemployment, a 70yr record.
- Los Angeles poverty climbs to 20%. Some California towns like Fresno and Modesto top 30%.
- California zaps 60K state employees.
- California 19yr old school attendance down to 30% marking the biggest drop ever anywhere.
- California hotel foreclosures TRIPLE in just the first 3 qtrs of 2009. That's a 25B USD "writedown" in the making in terms of the outstanding defaulting loans.
- 25% of USA foreclosures are Californian. Some places in California clock 70% home price shriveling prompting governance to declare "disaster areas" due to foreclosures. But Swartzenegger, the mighty leader of California, stands undaunted proclaiming in all seriousness: "California Dream has rebound". Well, saxons are good at producing slogans, no matter how deranged. They do less well in the snow and are known to piss panties just hearing about Katusas. Unfortunately, saxons are quite unfriendly with graphs otherwise they too could enjoy their prolapse.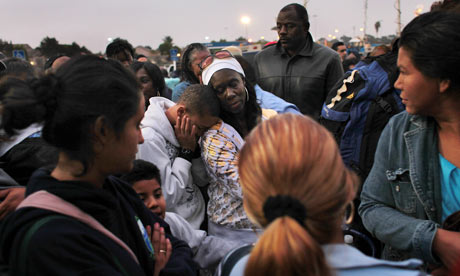 This is dental care in US of A today. The 1500 drillings alloted were filled by 4AM by the weary proud USA crowds. The rest gets no care at all.
"Oooo-la-la," as the French would say after scooping a tasty snail. The beauty of this terminal prolapse chart above is that it makes absolutely no diff what colour line you choose. That's just details. Debating the adjustment offset is immaterial today. Everything can be seen in the marvelous exponential trend that rather takes off at 2007, the inflection point at which euro had surpassed the dollar after the May 2006 petrodollar nuking.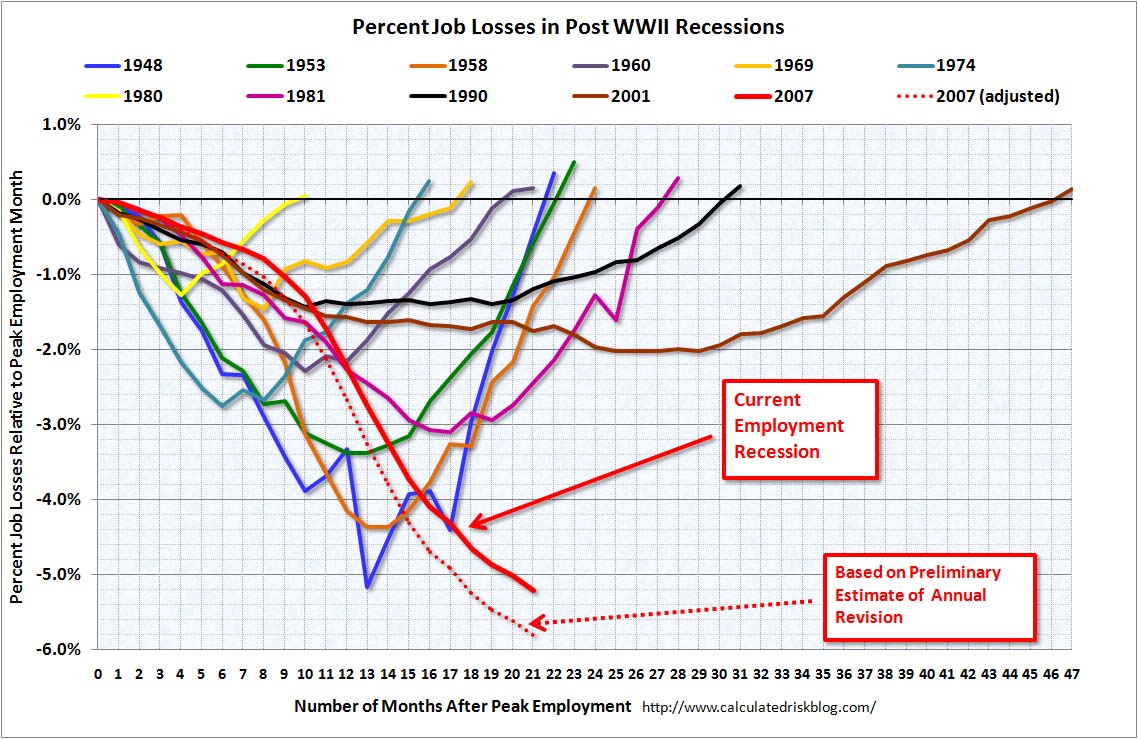 For those yank baboons still plaguing forums around the web with their puke-laden west media whore manure that loosely goes like this: "it's cyclical, guys", here's a simple proof that it just simply isn't. Perhaps the west media whore slogan should be upgraded to: "it's bicycles, guys".

Venezuela -
Coop on 10B EUR refinery in Brazil with Petrobras.
- Subsidising Cuba, to keep it yank-free, with 9B EUR. Venezuela also feeds Cuba with a friendly oil rate of 27 USD/barrel.
- H Chavez aptly terms the setting up of SouthAm and Africa coop on military, banks, and resources "the new hour". Kadafy, Africa Union lead, comments: "It's closer to visit our brothers in SouthAm. We* share same interests of liberation and revolutionary ideals." * We means: Uruguay, Paraguay, Ecuador, Argentina, Bolivia, Brazil, Venezuela, Libya, Sierra Leone, Mali, Mauritania, Niger, Namibia, Angola, and Tanzania. If west had more time on its clock, the smarter of them may find the development rather disturbing.
..to be cont'd as it all piles up.