26-30Aug09 -- Just like west has perverted the definitions of "antisemitic" and "insurgent", misusing them like some harping mentally deranged fiend on 24/7 basis, they've apparently added another one to their list of word rapes: "recovery". Whatever they mean by it in west, it's nothing to do with what it meant weeks ago. Considering current west reality: rising unemployment; crashing econs apart from econs showered with hyperinflated prints of cash; prolapsed housing markets; shriveling retail indicating the prolapse has trickled down to the west plebes; a simple question arises: what does the west war junta mean by "recovery". Could recovery be a code for the planned needle final solution? Is it some inside west war junta joke like that crazed NWO victory threat papa Bush gave on Sep 11 (how else?), 1991? Does it mean the end of their assets consolidation and movement to the final west prolapse phase (in which the west war junta transmogrifies assets and pulls out of what's left of the west cesspit)? Whatever the answer, one thing's clear enough. The west-wide "recovery" orgy, celebrated by the ugly west media whores on behalf of their war junta betters, has nothing whatever to do with the welfare of west populace and most bizarrely not even with the health of west econ. (Mouseover flags for info)
Abkhazia -
After attack on shipping routes, preemptively gives Russia the auspices for its railway system. Georgia's beating fists on the floor in another amusing fit.
- Russia takes on protecting Abkhazia's shipping.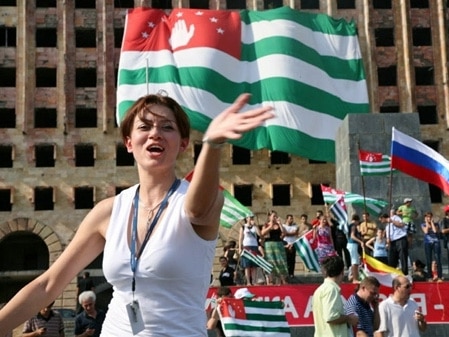 Happy birthday! Following the vicious west assault on civilians, Abkhazia was liberated by Russia and set free from the west harrowing neanderthal claws on 26Aug, 2008. West beast is still refusing to believe it, much less to join in and sing.

Afghanistan -
Reports indicate Kandahar is being wrestled out of the NATO control, once again.
- NATO commander asks for 20K more USA troops.
- Why is west in Afghanistan? It's making 50B USD/yr on drugs. Taliban is partly west-stoked creation so that the west drug mining can go on amidst the artificial chaos and so indefinitely. West has surged its occupation in Afghanistan to ~100K troops (68K USA, 10K UK, 20K other partners in crime). But it seems the support of Taliban, much like S Hussein's, has bit west in the arse as their dead pile up. This is further supported by the USA Pentagram, which is screaming at comrade Obama to give it 4X troops so they can even begin to make a difference. Again, note the west efficacy here. Yes, west is growing drugs in Afghanistan. Yes, they've increased the production by some 45%. And yes west is supplying some 75% of the world drug market. But the business model is so badly crippled by the enormous and rising demand the Afghan Stalingrad represents that the entire fiasco is rendered next to useless, strictly business speaking. The drug revenue doesn't stretch much beyond covering the high-tech semi-robotic anti-civilian NATO military deployment. And let's not forget the important bit here. The entire cumbersome NATO command is next to toothless today for its legions are mired in this increasingly messy engagement. This is why USA has quickly reapportioned Colombia, by bribing Uribe with USA medals of honour and other such oxymorons, to harvest drugs from the Amazon basis. And this is why Russia was so eager to open the Helmand gates for west. A few weeks on, and USA's war deployment around the globe has been drastically thinned. At zero cost (actually Russia got paid by comrade Obama for Afghanistan access) west has been further emasculated.

Argentina -
Hosts an emergency SouthAm summit on USA hostile takeover of Honduras and current surging troops in Colombia.

Australia -
Inks up a 26B GBP deal with USA on LNG. Note the shame of west reduced to doing deals with self.

Colombia -
Admits that USA troops are in Colombia not only to "fight the ongoing drug war" (which is west code for trafficking more drugs) but also to murder FARC members. Indeed, per admission, war on region has always been on their minds.

EU -
Special emergency fiscal meeting on for 17Sep. Apparently, they'll be figuring out how to "continue" the EUnuch "recovery". Perhaps another print of say 300B EUR?

France -
Also in "recovery" and that's why it quickly pumps 18B EUR into its shriveling economy.
- After boss-nabbing, boss-beating, and bomb threats, the disgruntled west plebes move to threaten poisoning the Seine.

Georgia -
Attacks on S Ossetia continue.
One of the many disturbing manifestations of west.

Germany -
Merkel pledges 4K troops without any time limits for the endless occupation of Afghanistan. How much is Germany getting off the 50B USD/yr drug industry?
- Unable to peddle their BS industries like Opel, they're now changing the tune and saying they'll let comrade Obama's Governance Motors just keep it. Yes, west war junta's consolidating their toys, while all the west baboons watch and pay for it.
- Like all west, for west is one single beast today, just with many heads sprouting from the grisly body made of 2000 yrs of genocides and land thefts, banks in Germany despite getting zillions in free cash aren't lending. So Merkel says the state will lend now. So banks got zillions for keeps and state will lend, which means people will pay higher taxes to lend to themselves. Well, so long as Germans are happy with their capitalist war idyll.
- Retail shrivels indicating prolapse at commoners' level.
- PMI below 50 meaning mfg orders have shriveled yet again despite "recovery".
- Clever arithmetic adding printed cash to GDP, econ grows by 3/10ths%. It's like west banks recently celebrating profits from USA, UK, to Germany. While west media whores celebrate this artificial "silver lining" even Merkel warns "the [real] GDP to shrivel 6% this yr".
- It ain't the plebe though. Unemployment rises further pegging at 9% now.

Honduras -
Micheletti, put on throne by USA coup, heard to sigh he's ready to resign and let Zelaya return.

Iran -
Ahmadinejad seems to be keeping his word. He said he's gonna seek justice on int'l scale for west crimes when he was elected. Iran's setting up a special fund and task force to do just that now. The idea of establishing a fund to expose USA war crimes passed 189:21.
- Much to the west chagrin, finds more oil. Apparently, Susangerd reserves hold near 9B barrels.

Iraq -
Occupier convoy bomb attacked, 28Aug.
- Occupier patrol IED'd in Baghdad, 28Aug, confirmed 2 dead.
- Occupier patrol IED's in Ghazalia, 27Aug.
- Occupier patrol IED's in Sadr City, 24Aug.
-See
warnewstoday blog
and
heyetnet
for more.

Israel -
Murders 3 Palestinians, 24Aug in air attack. No word on whether they returned to carve organs out for USA organ-thirsty market. ("Organ-thirsty" means no overdramatisation here. Market, like USA, which bears the 15-20X mark up is, by all means, deeply unquenched.)

Japan -
Also struck by "recovery", celebrates new unemployment record of 6%. Sideline: 6% or 10% is secondary to the trend derivative, which continues to indicate, despite all west media whore orgies, west "stays the course" to prolapse.
- This is further underscored by chief cabinet sec'y: "no doubt the job situation is worsening".
- Japan opposition party trouncing on the Bush II Tokyo stooge governance is taking over the reins of this badly crippled nation that's not much more than a USA military base. Sideline: This party made 911 evidence a matter of international record with its presentation in Jan 08, upon which they questioned supporting USA "war on the world" by providing military basis. This could become yet another thorn in the west beast's rump and it's surprising no fruit-colour revolt has been staged thus far by the west psychos.
Watch the 911 expose from Jan 2008. Although revolutionary it received zero attention from the west media whores.

Mongolia -
Uranium mining coop deal goes to Russia. Not Canada, as west resource pirates had hoped. Apparently, stunned Canada had the contract all printed out and had already fountain pens ready for action.

Netherlands -
It turns out the "moon rock" the Apollo boys gave to Holland exPM is nothing but a piece of ordinary earth rubbish. So let's see... USA went about in 1969 passing out rocks as "moon rocks" to the gullible. Holland museum is apparently "laughing" about the mischievous knavery and NASA says it will "investigate" about the Apollo nazi-led exercise in advanced film making.

Russia -
Beefs up missile defences on N Korea border.
- Has 187 USA-flu cases ONLY. And 27 were contracted while school kids were on a field trip to the drizzly UK isles. Now, considering west USA-flu #s, this proves the existence of systemic bias here. That means that the spread of USA-flu has been somehow "biased". And that means that it's artificially created and seeded largely in the places the west beast can reach. Now remember, as to the spread of the flu, the "odd" explosion of USA-flu viles on a commute train in Swiss. As to the disease itself, remember the avian and swine flu splicings in west labs. Yes, west and places it can reach have been selectively poisoned to predicate the needle solution mandate to end all west woes. As to the planned genocide, remember J Burgermeisters' expose. Of course, to understand this, baboons will have to look up the word "systemic", "proof", "bias", "artificially", "seeded", "in", "the", and "explosion"... no, they know that well from the rancid Hollywood brainwash.

Somalia -
Opens fire on a helicopter of USA pirates.

South Korea -
First independent orbit try fails. Looks like S Korea, like all west, will have to keep renting Russian equipment.
South Ossetia -
Happy birthday! 26Aug, 2008 is when S Ossetia got her independence from the west beast. West beast continues to reject the birthday song.

Sudan -
UN occupying troupes forced to evacuate a bit of southwest as LRA mounts attacks in the region.

Sweden -
Round 2 with Israel over the organ theft expose (see NBN24Aug09 for 1st round). In this round: Israel moves to fiscal assault by commencing boycotts of AbsolutVodka, Volvo, IKEA; the author of the article gets death threats from militant jew factions; and Sweden is now forced to treat the article as "racial agitation", not just "blood libel". Sideline: The strange and quite the typical thing regarding the underhanded nature of all things west is that, once again, no one's talking the real issue here, the crime, the organ plunder. Everyone in west is debating some rubbish like press freedom whilst deliberately missing the fact that west murders to carve out organs and sell them on a giant int'l west organ black market. It's exactly like EU proving explosives in WTC yet no one said the obvious. What could have caused such mass brain rot across the whole of west? Make no mistake, Swedish "irking" Israel is just a snowjob to burry the USA/Israel organ harvest crimes in nonsense sideline prattle until all dirty west baboon monkeys grow weary of the whole thing like always.

Switzerland -
Wiped out banking after the USA/UK plunder for a bit of hidden cash takes a token shot at USA. Wegelin Bank leads the pack in stopping doing all business with USA. Swiss was heard to utter "USA has overestimated its fiscal luster" (paraphrase here).

UK -
USA quite angry with the return of the Lockerbea patsy. Are they worried the truth will come out? Why? If west baboons don't get 911, which includes visual evidence, they stand no chance of ever untangling this one.
- UK PM in Afghanistan "TALKING" to Taliban. One more time: PM is having a talk with Taliban now. About what? So Taliban doesn't kill west invaders so much as to make the west drug harvest too expensive? Yes the west disease is sordid beyond grasp.
- While celebrating the end of recession, it projects further 13% drop in housing. See, people's wallet has nothing to do with "recovery".
- Mortgage lending shrivels by over 4B GBP, marking biggest 3yr (that's the entire active prolapse) drop. Sideline: So how's this work? UK banks get zillions and are printing near 30B GBP each month, that's 30000000000 GBP each month or around 3B every flipping day and they lend NONE of it. Where's the cash going? Has any poodle asked? Does any poodle even care? Well, go back to your slumber in your dog houses, poodles. Don't worry, they'll wake you for your shots.
- Perhaps for playing part in the Lockerbee embarrassment, London is fluorising Scotland's water now.
- Troops not given ammo anymore, unless they're in the Afghan crossfire. This is a BIG news! UK can no longer trust its own troops.

UN -
Want 5 yrs olds to learn about masturbation and 9 yr olds about homophobia and transphobia. Note here what sort of barf raising rubbish are these paid castrates spending their time on. Not a word about Israeli land thefts. Not a word about Gaza genocide. Not a word about Tamil genocide. Not a word about earthquake calamities. Not a word about USA and Israeli int'l organ plunder. Not a word about USA/UK ongoing war crimes. But masturbation, kids, and deviant sex? Well, that gets them pervs going. West is the disease -- in every aspect, in every dept, in the very sense of the word, and in every way.

USA -
More evidence emerges that USA has special press commandos that determine if west media whores' news coverage is "positive or negative to the mission objectives." No question here, west media is no more than a propaganda army assaulting all those who still eat the BBCNN mindrape swill.
- Offered millions in bribes to UK to keep Lockerbee's guy behind bars. Doesn't USA get that they can no longer bribe with dollars? Not even UK poodles want that rubbish. UK needs oil from Libya, not some ugly green smear from USA.
- Next fiscal year means shriveled pension checks for 50M baboons and higher medical premiums for 32M of them. Well, someone has to pay for the "end of recession" party.
- Unemployment to be "higher" and deficit "bigger" than "expected". Is this still the same "recovery"?
- Real unemployment more like 16% and even that seems moderate. Sideline: The scalars don't matter. It's the trends that do, the derivates in all these cases. And they all steadfastly point to a total and complete prolapse of the entire west cesspit world. The underlying reason is very simple: no petrodollar, no dollar & no dollar, no west, not even in parts. Hence the west war junta huge hope for the needle solution.
- Dead bank count for 2009 at 84.
- Deficit announced to be 2T bigger in comrade Obama's term. If only 2T. But regardless, is this still the same "recovery" the west media whores are orgasming over?
- Econ spirals down "more than expected" in Q2. That's GDP shriveling 1,5%/Q2. Is this the "recovery"?
- USA central bank, the Fed, forced to disclose where trillions went. The Fed rebuts with an unveiled threat of USA econ collapse if they're forced to release such data. And they're allowed to keep the vanishing of trillions secret. The degree of heists in west are beyond astronomical now.
- Press ad revenue shrivels 30%/Q2. That's 3B USD gone from the paper part of the west mindrape machine.
- M Jackson (yes, the singer) was killed confirms autopsy. Anyone any clue why they'd kill him? Was it the "They Don't Care About Us" vid?
- USA health dictators mulling making genital mutilation ala some bizarre jew sex ritual universal for all USA-born boys.
- Massachusetts gives baboons a healthy choice now: pay 1000 USD per day and go to jail for 30 days or roll up your sleeve for the needle.
- Raised voices heard twixt CIA and white house. Yes, west war junta factions are at each other's throats. After all, not everyone can get the USA-flu vaccine antidote. It's the west war junta cut-off fringe that will soon become the proverbial 5th column. But first they have to sort it out amongst themselves who exactly it is.
- After weeks of mock drivel, comrade Obama changes mind and supports Israel's theft of Palestine in E Jerusalem.
- Another int'l embarrassment for comrade Obama. Caught in over 70M heist of funds. His fund raiser Hussein Nemaze out on a 25M USD bond.
- New yank vocab: Governance member from Iowa extends the pathetically thin baboon dictionary with "hyperinflation" and a governance member from Oklahoma introduces "revolution" as in "[it's] at point of revolution in USA".
Imagine the intense stupidity of a nation that believed this the laughable vomit about repairing USA. And the freaks actually got their rumps off the couch, and in droves previously unheard of collectively pulled the lever of the election arm bandits for Hussein Obama's "Change programme". Now, try picturing the indescribable cretinism of a moron who still believes it today. Per latest poll, there's still 150M of them in USA. Considering comrade Hussein Obama's record, it's truly unbelievable how incurable the west mind rot disease is.
PRE-ELECTION PROMISE: will stop torture
POST-ELECTION ACTION: increased torture & detainment w/o due process
PRE-ELECTION PROMISE: will prosecute for torture and war crimes
POST-ELECTION ACTION: indemnified all war criminals; hid torture evidence
PRE-ELECTION PROMISE: will close concentration camps
POST-ELECTION ACTION: says can't close them cuz it costs too much
PRE-ELECTION PROMISE: will investigate 911
POST-ELECTION ACTION: made debate and questioning 911 with USA governance illegal
PRE-ELECTION PROMISE: will pull out of Iraq
POST-ELECTION ACTION: will stay indefinitely
PRE-ELECTION PROMISE: will stop wars
POST-ELECTION ACTION: attacked Pakistan; surged assault on Afghanistan by some 30K troops; is occupying Somalia waters; is supplying WMDs to Georgia
PRE-ELECTION PROMISE: will back creation of Palestinian state
POST-ELECTION ACTION: backs Israel's surging theft of Palestine and even Jordan now
PRE-ELECTION PROMISE: will stop warrant-less searches
POST-ELECTION ACTION: searching everything, even laptops; establishing groups made of kids as governance snitch commandos
PRE-ELECTION PROMISE: will stop reckless money printing and fiscal misappropriation
POST-ELECTION ACTION: printed over 700B USD; gave 5B bonuses to execs for staging bankruptcy to nationalise assets; grants limitless bonuses to banks off "bailout" zillions; increased debt ceiling; ignored trillions in central bank payouts; personally implicated in a 70M USD political fund heist
PRE-ELECTION PROMISE: will fix USA econ
POST-ELECTION ACTION: increased unemployment; nationalised giant assets; evaporated trillions from social programmes; increased housing prolapse; 84 banks killed under his watch; runs record deficit on this side of the galaxy; finished USA mfg

Venezuela -
Gets 203M USD from Spain for a joint venture dev'ping Barua-Motatan reserves. From here on all foreign oil interest, just like in Russia, operate only in joint ventures with Venezuela. Spain is the first to get in the door.
...to be cont'd as it all piles up.