1May-12May -- The beautiful desperation and also the remarkably off-scale fiendishness of the sinking west cesspits are best seen perhaps in the gem of EUnuchs moving their rumps, rather quickly, to try to bailout -- not a factory, not a industry, not a nation -- but the whole of the entire crazed Grand EUnuchia 24-language-blabbing amalgam, with the first pifly round of 1T EUR. The scenario of buying up EUnuch bonds to prevent default was a joke posted here but the west child-murdering cretins took the nonsense seriously, enacting it, and pretending it's all swell now in their gangrened billboard lands. They, of course, missed the point of the comment, which explained the terminal folly of the path the EUnuch finds itself on right this second. Let's watch them learn the hard way. (Mouseover flags for info)

Afghanistan -
USA chopper down adorned with many invader casualties.
- Bomb kills 2 USA troops, 11May.

Bolivia -
Morales liberates 4 more electric power plants from the west beast talons. 80% of power is now controlled by Bolivia. UK gnashed its fangs: "it's disappointing".
- Claims surface west is behind union threats of open-ended strikes for not agreeing with only 5% pay rises.

China -
Launching 700M USD credit fund with S Korea & Japan.

EU -
Prodded by Greek unraveling and perhaps also by 1 yr euro low vs the gangrene dullar, moves EUnuchs to total psychosis. EUnuchs, in hope to soften the looming default, print up 1T EUR to buy up the outstanding unpayable bonds (or simply put pay their elite war junta). In one mighty rattle of a cash printer, this makes the EUnuch central wank the one and only governance of EUnuchia dictating not only bond yields now but also deciding who needs cash or austerity, while castrating all EUnuch governances. Of course, buying bonds achieves absolutely nothing for EUnuchs other than preemptively channeling the bailout into the pockets of the west war junta before EUnuch-wide default could threaten the heist. Printing 1T, 2T, or 30T is immaterial. West remains out of industries, resources, and war targets.

EU-Franks -
Unlike Spain, Latvia, and Portugal that join Romania in getting preemptively punished with Berlin austerity dictate, Frankensteins manage to evade fiscal penalties. It's nice to see that EUnuchia like the Baboonarium is at last clearly stratified into fiscal slaves, 2nd class citizens, and the pretty christianic child-murdering ubermensch. Stratification of this kind is necessary as it always precedes, shall we say, int'l tension.

EU-Germs -
Retail shrivels 2,4%/Q1. This while the west abacus wielding charlatans forecast 2/10th growth. Like cruelty, evil, and violence, stupidity too comes in unlimited and inexhaustible quantities in west.
- Herr Merkel governance calls for suspension of EUnuch votes unless Berlin austerity dictate gets its way.
- Herr Merkel's cave-in on what's erroneously termed a Greece bailout irks the eternally selfish and self-absorbed Germ. Votes against her christianic saxonic power grip pile in on a sudden.

EU-Greece -
6May, governance rips Greek budgets with another 30B EUR laceration, as EUnuchs with IMF lend 160B EUR to tie Greece over their 3 yr defaults. It means some 11-12+% of GDP/yr additionally rinsed out of Greece per annum or something that's simply not poss. The general uprising supports the simple math that somehow eludes the west saxonic freaks.
Why are Greek cops fighting? Don't they get "austerity" castration is aimed at them as well?
- 6May, clashes continue.
- 3 die as bank gets attacked in protests in Athens, 5May.
- PM responds by saying: "Nobody has the right to violence that leads to murder." Odd, it's as though he missed west admission that its violence has led to the murder of 1M civilians in Iraq only. Yes, west is no more than a sick joke theatre today.
- Nation-wide strike, 5May.
- Protesters interrupt TV broadcast, 4May.
- PM calls for political unity to fight the general uprising and puts military on standby.
Fear of polarisation within west sends west stock exchange charades into convulsions forcing artificial trade cancellations and subsequent control.
Greek uprising, 1May.
Not too an enviable position, that of a west cop today. On the streets they're targeted by the general anger and behind the scenes they're fiscally targeted by the governances they serve.
Athens, 1May.

EU-Latvia -
Proudly boasts 23% unemployment, keeping instep with Spain and, of course, the very Baboonarium.
- Public wages shrivel 25% in 2 yrs.
- Retail shrivels 30%/yr.
- Further 9% of GDP rinse planned for the remainder of this year. Such are the perks of living under the west whip.

EU-Netherlands -
The west monster admits to spilling 14K tonnes of oil in Niger Delta last year devastating the region still further. That's doubling the ongoing eco-vivocidal devastation in one year. Yes, west is THE disease and the eco-vampire is working around the clock systematically destructing our planet.

EU-Romania -
IMF preemptively imposes austerity measures with 25% public sector pay cuts. Such is the beautiful life under the west whip.
- Protests erupt, 7May. Unions call for nation-wide strikes.

EU-UK -
The nonsense back-slapping behind-the-scenes dealings that poodles, like the rest of the west freakishness, have for "elections" see Brown out and Cameron in.
- Independent newspaper picked up by some Russian on the west-wide garage sale.

Haiti -
West enslaves the earthquake torn island. Parliament is expired and the butcher of Yugoslavia makes Haiti his private island annexing it and the billions rinsed under the earthquake aid scams. It's slavery in sweatshops and textile concentration camps now, all slaving for the baboon kind. This is oddly timed with UK's re-rape of TCI, Africa land purchases via Saudi, and recent USA Puerto Rico takeover prattle. Is the west monster trying to rebuild some low-cost assembly line alternative for China?

Iran -
Unveils own defence system against cruise missiles and all sorts of low altitude flying thingies.
- Doubles gas exports/Q1. Has 2nd largest gas reserves. No wonder west wanted it so.
- Reveals anti-sub torpedo. This is particularly bad since west fleets have a hard time not crashing into one another in the Hormuz strait without being shot at and underwater at that.
"Abandon your stubbornness; live with other nations based on justice and friendship, like human beings; leave the region; leave Afghanistan; leave Iraq; withdraw to your borders and mind your own business," Ahmadinejad tells west, 12May. Pause for a second. Consider the change that has taken and is taking shape before our very eyes. Iran was slated for west takeover a decade ago when west launched its final crusade to re-conquer our whole planet dictating which nations get to die, which remain alive as slaves of west, and which are going to be harvested for organs to prolong the wretched lives of the west grotty obese freckly christianic pedophiles. Apart from 911 and London77 self-abuse, it's relatively safe to say that no part of the west NWO globalisation Busch II & Bliar sordid wetdreams has materialised -- and some might say that even the NYC and London crimes were pretty sloppy. Ponder the size of these truly globe-changing factors at play here and you'll see that the series of west grand defeats and the exponential slide down its fiscal abyss are no accidents, but rather the results of carefully orchestrated and thusfar brilliantly executed exorcism.

Israel -
Maimed 6500 children in the recent Gaza genocide. No word from UN? Strange, isn't it?

Japan -
Hatoyama admits he's incapable in the matter of stopping the USA occupation. Breaking his chief pledge is noted with an approval plunge to 24%. Isn't there a samurai left on the island?

Kyrgyzstan -
Coup chased out PM charged with mass murder.
- Elections set for Oct.
- Opens investigation into 2M-tonne bribe deal to fuel the USA base used in support of the west's genocide of Afghanistan.
- Comrade Obama hurriedly sends 15M USD for his mil base rent.

Russia -
Lula in Moscow seeks Brazil-Russia further coop on the usuals: mil, econ, & power.
- Doing coop with Turkey & Syria.
- Launching Iran's satellite.
- Gears S400 missiles for production this autumn. System's said to be 3X efficient than any other.

Syria -
Comrade Obama extends sanctions on Syria.
- And so Russia initiates mil, econ, and nuke power coop.
- Asks Russia for help to denuke Israel.
- Doing coop with Turkey. Yes, indeed, west sanctions work charmingly.

Thailand -
Abhisit offers elections in late fall if only reds go home but they want the head of deputy for 25 deaths in last month's riots. Oddly, yellows too want Abhisit out, albeit for a different reason: for not dealing with reds in a swifter manner.

UN -
Maiming of children by the west beast is a non-issue for the planetary west symposium of "health". Instead, WHO wants to tax internet activity. Slight departure from their UN mission? Yes, west is THE disease in all its manifestations, colours, forms, shapes, and reincarnations.

USA -
7May, in concert with Greece uprising, trade exchanges get shut down by governance and remain artificially propped as the EUnuch official prolapse quakes the whole of the west cesspits.
- The fun news is that USA governance members will remain free to employ their inside trading skills. That's right, it's legal for USA west junta to do what west peasants go to jail for.
- But the baboon peasant doesn't bother with that. It has other worries now. Food rises near 2,5%/Mar marking the biggest jump in 26 yrs.
- And that's just when 1 out of 8 baboons now depends for its dear life on governance food stamps.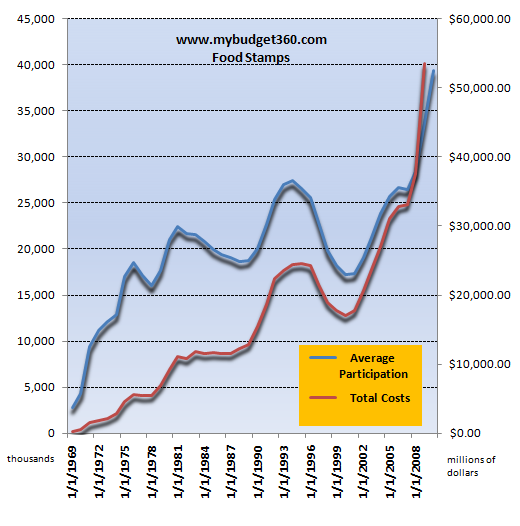 The food stamp USA populace grows to a pretty round number of 40M. The chart sadly only shows the wonderful trend through 2008.
- Tax season brings disappointment as receipts in Califiendia and Mississippiss are below par 26% & 8% respectively.
- 68 banks pronounced dead in 2010, 8May. That's 1 bank or ~1B USD every 48 hrs getting the flush now. To the baboon, that's "recovery", however.
- USA treasury announced its need to rather quickly somehow wrangle some 90B USD out of the baboon banks. This with the recent 20B USD handed out in bonuses to the USA banksters. But again, baboon, no friend of arithmetic, rests unperturbed.
- So broke in fact that it asks Cuba for 6B USD in blackmail to lift the embargo.
- FanMae loses 11,5B USD/Q1 having been given free 76B USD before the next round of 8,5B USD it needs to survive a bit longer.
- FredMac loses 6,7B USD/Q1 having been given free 50B USD before the next round of 10,6B USD it needs to survive a bit longer. Not blessed with a mind that understand numbers, the yank baboon remains unperturbed.
- It's no wonder then that 96,5% or all of residential baboon mortgages are subsidised by USA governance. That's right, the entire USA realty market is a governance scam sinking in its own mire as 1 out of 4 homes are underwater or worth less than the note on them.
- But that's not all! USA commercial realty prices post a fun shrinking of 42% since 2007, when the first visible rot was noticed following the beautiful 2006 dullar nuking.
- Plus, all commercial realty is now underwater. Some 13T USD (that's TRILLION or say 13 EUnuchia-wide bailouts) spread across the FDIC catalogue ready to go bust. Just the learning curve on this fun particularity of the west-wide prolapse is enough to perplex the baboon from here on.
- Continental and United figure merging their debts will help them fly through their prolapse. So far no word on the extent of redundant job zaps.
- Cutting 275K "education" jobs across 49 states.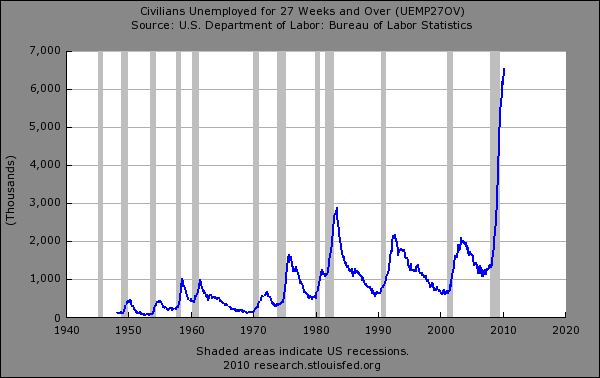 Another healthy trend. This is civilian baboons unemployed for 27 wks or better.
- While angry over Iran's pursuit of nuke energy, boasts it has over 5K nukes. Slight double standard there? Further, it states Israel doesn't need to disclose its nuke arsenal, in a silly off-the-cuff confirmation that indeed west has been nuclearising Israel against int'l treaties.
- Comrade Obama, west adorned symbol for peace, widens drone murders in Pakistan, achieving 10 murders on 9May.
- Pentagram laments over obesity running rampant among the young baboons fearing they're no longer capable of slipping into the standard issue fatigues.
- Admits to having pumped 4M gal into Gulf-of-Mexico. This is, of course, a lie. Let's see how big a lie, shall we? They're pumping some 25K and possibly as much as 60K barrels into the gulf each and every single day since 20Apr. The low estimate puts it then at near 60M litres by now. So the vivociders are lying then at minimum 400%.
- The oil slick has reached the shores of Taxes, Loseriana, and AlObama, enhancing now most of the baboon riviera. And these grease monkeys wanted to dictate ecology?
- Further admits to pumping 7K barrels of some chemical dispersant into the gulf to make certain this is truly the greatest eco assault on our planet yet.
- Comrade Obama's dispatched air force to combat the oil rig leak. Of course, that act of desperation had also failed.
- Gives 5K USD, that's 5000, to fishermen for having to wade through the oil muck.
- Comrade Obama appoints a judge to USA top court who has no judge experience. What's the qualification then? The appointment is one of GoldSacks' own. Yes, comrade Obama wants the banksters to run it all now.
- Loses NorthAm IntelSat satellite, which is now adrift in orbit. And these grease monkeys wanted to dictate technology?
- Newsweek on the west-wide garage sale.
...to be cont'd as it all piles