27Jan-4Feb10 -- Beside deliberately targeting children for the gamut of the west beast's sordid crimes, here's another 15 reasons accrued just in the last 10 years bolstering the "west is THE disease" concept: Afghanistan, Kosovo, Palestine, Lebanon, Russia, Honduras, Iraq, Pakistan, Yemen, Panama, Eritrea, TCI, Somalia, Sudan, and Haiti. If this seems insane, that's cuz it is. West is mad on every level, in every aspect, in every trait. (Mouseover flags for info)

Afghanistan -
West admits to 44 troops zapped in Jan.
- West seems to be at odds with their "ally" Afghan guards. On 30Jan, west killed 4 Afghan troops and Afghan troops killed 2 USA troops.
- In west/Talib pact making, USA is offering governance posts to Talib and cash for ceasefire.
- As such, UK quickly unveils 1,5B GBP for "war". Yes, that'd be the west Talib payroll. Sideline: West is no stranger to dealing with "enemies". USA befriended Germs in 1945 and saved ~20K officers from the gallows in a mass repatriation op. Many of the erstwhile "enemies" of west readily joined the USA machine the second they doffed the skull and bones uniforms. For example, R Gehlen, Hitler's chief spy became the CIA founder and more fun USA=Hitler facts. Many were even decorated with USA honours like Braun or Hitler, for that matter, USA's 1938 "Man of The Year".
- USA troops raid another home executing 5 and a baby. NATO admitted the baby murder.
- Talib/west pact is being turned against Russia. BTW, This is no different than USA/Germ coalition of 1945 planning to go against Russia, as Mr Patton had revealed. Russia responds by mulling sending troops in. Yes, west's maintaining the planet on now permanent WWIII footing.
This is Hitler's Gen R Gehlen. Never having to face his war crimes, he simply joined the upper echelons of CIA. How's this possible? Cuz USA=Hitler very much like USA=Bin Laden, Hussein, Talib, al-CIAda and the rest of the bugaboo specters west loves to manufacture and fright-trip its cretinous populaces of baboons into psychotic cubicle-slaving child-murdering obedience.

Australia -
Supporting the fissure twixt west and Afghan "allies", Aussie troop dressed like a Talib, murdered Afghan guard, a supposed ally of west, in hope to spark internal wars. This is a very common method of west. And laughingly, Cuntberra's very angry. Why? Cause their murderer in drag got caught. West is a limitless farce and ridicule of all things humane.

Brazil -
USA slithers up with 2B USD to get their talons on the offshore oil action.

China -
USA peddling 6,4B USD worth of arms to Taiwan and threatens Beijing USA will defend Taiwan. Sideline: 6B worth of arms is more than USA 2010 nuke upkeep budget, not just a boatload of rifles.
- Bought near 30B USD worth of garage sale items in USA alone plus oil accesses like UK's E Energy and Swiss' Aldex. Yes, west is on a going-out-of-business sale.
- USA is trying to peddle GM's Hummer division to Beijing.
- Makes a 1,4B USD play for Aussia sugar industry but Aussie plays hard to get. This is like with mining. At first, Cuntberra screamed: "Aussia resources to Aussies" in the beginning of 2009. In 6 months, west's prolapse changed their mind.
- Foreign reserves grew by 453B USD/2009 to 2,4T USD. But reserve holdings in dollars shrank from once 2/3 to somewhere around 1/3 today. Note, this is a diametrically different tale than what all west media whores disseminate via their deceit BBCNN mindrape, in which the west TV and econ bimbos claim China is the real victim of USA prolapse. But then again, *all* BBCNN brainwash is detached from all reason and reality.

EU -
With Portugal, Greece, Spain, Italy, and Ireland on the brink of default, in public, EUnuchs maintain there'll be no dump of EURo. However, behind the scenes ECB did a little study into the possibility of unhinging of the EURo nonsense. Yes, Grand EUnuchia, barely out of diapers, is already shopping for a casket.
- EUnuch central wank, UK's BoE, Swiss nat'l wank end their concerted bailout heist directed by the USA central wank. Henceforth, it may be every pirate for himself on even a grander scale across the west plateaus. The west states may just begin stuffing their own wallets with printed cash. Maybe they'll even have a race.
- Greece bond sales aren't raising the cash and are down 6%/Jan and 11%/3 months. No part of west, even the morally upright parts are worthy of any investment today. To save Grand EUnuchia from folding, IMF is busy extending some loan, of course, with harsh terms of social programme cuts.
- Italy crawls to Venezuela with 18B EUR to get in on the Orinoco belt oil action and promises of building refineries.
- Germs offering cash to buy "stolen" Swiss bank data in hope to claim 200M EUR hived away from Berlin in the Swiss vaults. Subterfuge, theft, spying, violation of due process, peddling stolen stuff, street gang mentality, that's all normal policies in west.
- Germ jesuit apologises to some 600 students for having been sexually abused in "systematic assaults". Yes, west is an orchestrated cabal of pedophile-crazed psychos.
- Germ unemployed at 3,6M in Jan.
- Germ industry orders shrivel 2,3%/Dec. Foreign orders shrivel by 3,2%. Yes, the Freeworld can manage just fine without "der ultimate driving machine".
- GM garage sells Saab for 470M EUR. The prolapsed west concern makes a living by losing over 1M EUR each and every day, weekends included. Russia managed to dump stock and pull out of the holding prior to the sale.
- UK Toyota zapping 750 jobs.
- UK ShopDirect zapping 1500 jobs.
- UK AstraZaneca zapping 8000 jobs. Looks like a damn fine recovery there, doesn't it?
- UK BratAir posts 1B GBP loss, which is nominal for the west air traffic industry 20% annual prolapse.
- In the continuing UBS loot hive battle, the Swiss pirates offer USA pirates 4000 accounts. But USA pirates want 50K account and so they threaten to resume the UBS war. And the Swiss pirates threaten to burn down the bank rather than turn the vaults over. Yes, the pirates of the Caribbean are at it.
- France tests ballistic missile. Note here that neither UK nor USA, the typical two bullies, threatened to nuke or sanction Paris for the provocation.
- Greece finds another 40B EUR hole in its debts.
- Romania happy to become USA nuke silo trench against Russia. So far the Barbarossa II front spans Poland, Czech Rep, Romania, Georgia (what's left of it), S Korea, Japan, Afghanistan, and Pakistan. Moldova and Kaliningrad are under west regime assault to rope them into the Barbarossa II lineup and it seems Ukraine may be wrested out of the claws of the west war fiends. Still, Barbarossa II is already ~4X Barbarossa I.
- Banksters meet in another orgy in Davos to publicly flaunt their bonuses off the west-wide theft. Oddly, west baboons weren't the least bit perturbed.
- The previous orgy in Cop-haggen over west eco-assault falls on its rump as China and India refuse to sign the west glacier-melting rubbish.
L Lula on the Davos charade: "They can't parade as a model of management cuz they're the ones that caused the biggest crisis."

Haiti -
USA christianic pedophile fiends descend on the defenceless children of the quake-torn island. 10 yank christianics get caught red-handed trying to thieve and traffic 33 kids (2 months - 12yrs old and not all orphaned). The USA jesuits tried beating the traffic charges by saying that west god sent them there to steal the kids. Odd, isn't it? West god told Busch II to murder millions of Iraqis. West god told USA gen'l to raze Falluja and murder everything that moves. Now, west god is directing children theft. West is THE disease with no competition! BTW, everything about this botched children heist screams "red herring".
- Comrade Obama occupation troops halt airlifts of injured victims. Yes, west builds giant concentration camps, organ & sex slave farms, children theft zones, one torn, defenceless nation at a time.

Iran -
Wants to extradite USA harboured terrorist linked to the recent n-power professor assassination. Note here that west harbours int'l criminals.
- Launched satellite leaving the baboon muttering its typical obscenities.
This is how the peace-loving, Nobel Peace Prize Laureate, democracy-spreading west christianic disease is "uprooting evil". Children are the west beast's favourite target. No other crime can highlight the disease more. West is actually holding hundreds of children in their hellhole concentration camps torturing them by policy. 2 yrs ago, UN reported over 500 children being stolen from parents and tortured in west extermination camps. But to the west populace of the bristly baboon swill, this is "war on terror". Yes, west -- all the way down to the white freckly christianic plebe hunched over a laptop in his grey cubicle of the west slave industrial adult day-detention centres and minding his own child-porn downloading business -- is THE disease of this planet!
Amara occupation base hit with Katusas, 30Jan.
Mortar attack on Green Zone, 31Jan.
Ratba occupation base hit with Katusas, 31Jan.
Occupatants hit on patrol in Baquba, 1Feb.
- See
warnewstoday blog
and
heyetnet
for war news.

Japan -
China placed orders causing Japan's export to actually grow, beside replacing USA as Japan's #1 export client. The implication should be obvious: there is no future with west.
And the message seems obvious to the Japanese. ~6K tell USA to get out.
- Hatoyama heard saying he'll "beat the inflation". This just for fun. Wasn't it "deflation" a month ago, that Japan was beating? If one plays with the west disease long enough, one ultimately contracts the sickness.
- USA strikes out at Japan with a 2B USD Toyota recall due to "possibly sticky mats".

North Korea -
Exchanges fire with S Korea over protecting newly delineated no-sail zone. Live ammo exchange lasted a few days.

Pakistan -
Peace Laureate Obama murders 17 civilians, wounding many more, 2Feb, with another drone bombing raid.
- Comrade Obama murdered 123 civilians with his relentless drone bombings in 2009. Foregoing the attacks on 3 other nations, this alone constitutes his west's highest peace laud.

Palestine -
Israel stealing Oush-Grab, Bethlehem, 2Feb.
Israel attacks civilians and children with their USA-made and given WMDs in southern Gaza, 2Feb.

Russia -
Gazprom posts 33% growth in profits.
- Picks up London newspaper on the west garage sale.
- Rolls out Sukhoi T50.
- Arms Libya with 1,3B EUR worth of weaponry. Not long ago, EUnuchs banked on non-Russian energy from Libya. This is not the kind of world order west had in mind.
- Lukoil lands a contract for 13B barrels in West Quarna. No, this is definitely not the kind of world order west had in mind. And Busch II policy was very specific on this point: "No oil to anyone who didn't help murder with us."
- West launching another orange revolt in Kaliningrad.

USA -
Fanny realty lending monopoly urgently needs -- yet again -- 55B USD just to stay afloat in 2010. After all, they're looking at over 6,3T USD hole: near 5T in prolapsed mortgages and 1,6T in actual debt. Yes, T = trillion here.
- Raising debt ceiling -- yet again -- to 14,3T. This is literary months after comrade Obama had upped it to 9T. And guess what? The new debt ceiling will have been maxed out before THIS month is out. Exponentially sinking ship? You bet! Spread the message of "west is THE disease" far and wide to prevent someone, in a moment of sudden weakness, from sending liferafts when the baboon flush comes.
Don't waste too much time here. Just note the exponential nature of west's prolapse. Behold top graph, top black curve. The line represents the basic debt. Note how it's taking off quite amusingly right off the chart, like Iran's satellite.
- While the central bank is hiving 2-3T USD (that's TRILLION) threatening USA bankruptcy if called on it, the top elite banks has just flowed 1B USD from the bottoms of the bank chain. It should be clear to all, even the yank red rumped baboon, that bailout = grand wealth reform, or to be more precise: the shifting of all west cash into one pocket of the west war child-murdering junta.
- Comrade Obama sets all sorts of records with his new budget like biggest deficit, biggest nuke spending, the usuals. In detail: deficit grows to 1,6T USD from 1,3T USD; fed borrowing grows to 80% GDP from 77%; Pentagram war machine financing goes to over 700B USD (160B USD are going to Afghan and Iraq immediately). And he gives 5B USD to upkeep of his nuke arsenal outspending Busch II.
- Exxon profits prolapse 23%.
- Verizon zapping 13K jobs.
- 15 banks dead in 2010, as of 28Jan.
- 1 in 8 baboons needs food assistance, a 46% growth since 2006.
- California, the pride of caPIGtalism, now boasts 20% on ave unable to buy enough food today.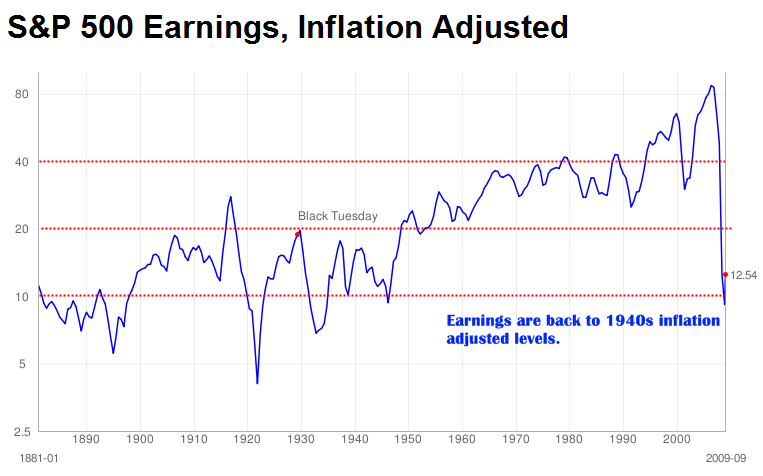 This fine graph is truly worth a look. Remember how west BBCNN media whores and the cretinous west baboons orgasm over their stock market rising upon which the west war cabals weave their laughable tales of west "recoveries" and such? Well, west stocks aren't up, the prolapse is! The graph shows earnings (P/E) adjusted for inflation meaning that a dollar earned have different worth depending on the era's inflation. Note first, the fantastic record cliff earning vanishing kicked off a bit after the 2006 dollar monopoly nuking. It's the greatest and steepest ever, beating even the "Great Depression" stock market crash of 1929. Then note, that the current west earnings are now touching 1945-46 levels. But the stocks are rising in value, they say. What's happening? Well, west is mired -- and terminally so -- in supergianthyperinsaneoffscaleinflation. Second, the stock, much like west's GDPs, and war junta banks profits are bloated with printed and heisted "bailout" cash. In very simple terms, nothing in west is profitable. All west claims of econ recovery and growth are no more than all things west: pathetic deceit. West econ doesn't exist any longer. All that's happening in west is the final wealth and real-estate reform. Without dollar monopoly, west cannot be, and some may aptly argue in many respects, that it isn't. So cheers to that, mates of the Freeworld and No-West-Order! Tell this simple tale to all the west baboon provocateurs and comrade Obama shill armies of mindrapists plaguing forums with their offal tales of west stock bloating.
- Fighting the gigantic spurn of vaccines, west medical cabal assaults doctor who linked west autism explosion and vaccinations. Though the west "doctors" are screaming now a different tune, they fail to explain why has autism in west grown into a pandemic. But so long as they have a scapegoat.
- Hunger pegged at growing 46%/3 yrs. Watch them find a scapegoat and revert all statistics.
- Home prices plunge 12% on average across the board, despite the garage sale pricing schemes, marking the grandest prolapse in 40 yrs. And this is with comrade Obama's "bailout" aid, which ends at the end of Q1.
- But 100M USD in new bonuses to AIG off "bailout" are fine, says comrade Obama to baboons. Baboons stopped listening the second they heard numbers.
- 22K jobs zapped in Jan.
- Rolling short term employment at 480K. The number seemed to have pegged at 500K and if it's dropping it's cause the benefits are shriveling.
- Begging Kissinger trips and comrade Obama love letters season is over, after bringing west no more than humiliating embarrassment. Now, warshington's befriending Dalai Lama to use Tibet as an orange revolt vehicle against Beijing.
- True to his peace laureates, comrade Obama launches militarisation of space and internet. War is west's only programme, thought, goal, wish, plan, etc.
- Pentagram establishing "strategic surprise and deception" dept. As though west doesn't have one already.
- If west's WWIII mobilisation of all its war assets isn't insane enough, warshington now proposes that the entire planet be NATO's protectorate zone. Not a joke! They're truly this diseased.
- And if this isn't enough of true, wholesome insanity, consider this. West now wants to explode hundreds of volcanoes to blow rubbish into upper atmosphere to block the sun. Why? To end its "global warming" false op. Yes, west is a lunatic whose only goal, thought, programme, plan, and wish is the total and complete destruction of life on earth.
- Google join hands with NSA to perfect web spying. Let's move blog, shall we?

Yemen -
USAudi admits 109 troops dead since 3Nov09. Yet, recently foreign ministry claimed no knowledge of the genocide.
- Truce agreed upon twixt USAudi/Houthis, 27Jan.
- USAudi resume attacks, 28Jan, firing 94 rockets.
...to be cont'd as it all piles up.