30Mar-3Apr09 -- News stripped of the west mindrape mutter, chiseled to a sharp stake, and driven into the heart of the lizard child murdering vampire. Be forewarned, victims of the west serial killer depicted. (Mouseover flags for info)

Afghanistan -
Rejects the sudden west sidling up for "honourable reconciliation" and dismisses it as "lunatic". "Get out" is the only answer given to the west child murderer.
- Taliban claims Lahore attack as retaliation for west attack on Pakistan. Threatens war on USA. Yes, Pakistan attack was west's last stand.
Orphaned by west. Lest we forget, Bush II even boasted a programme "No Child Left Behind".
5K civilians murdered, 20K maimed, and another nation bombed to tatters, all courtesy of the west parasite. Why? So the kids of west leaders can stuff their snouts full of drugs like USA VP's kid and the west white ubermensch monkeys can grow fatter and fatter off someone else's children's blood.
(For more on west victims in Afghanistan see rawa.org)

Argentina -
Dumps dollar for China trade. This is odd since Obama says d0llar is "extraordinary" strong. One of them has to be lying, crazy, or both. Who might that be?

Australia -
The earth apparently enjoyed the lights out during the "earth hour" and so she sank Sydney's into a 3 hrs blackout.
- Cpt of the ship that caused the latest eco-attack not only out on bail, but leaving Australia, and to keep his job. How about a billion euro bonus and 20M pension?

China -
Puts up the west most feared sign: "No Dollars Accepted". Dumps d0llar for trade with Honk Kong, Belarus, Indonesia, Malaysia, S Korea, and Argentina.
- Stops Rothchild bank partial buyout. Rothchild sought some 240B EUR but China reconsidered since assets known as west banks will go much cheaper than this in a few months.
- Offered to take over some of west's IMF but, completely unable to reconcile its end, west screamed "No! Don't take that!". It's most fun watching west writhe and howl in agony "Not copper! Don't take the mines! Not gold! No! Not opium! Not coca! Not IMF! Not zinc! Not gas! Not oil!" and instead try to peddle crap like west cars and other such overpriced dildo trash.
- Mfg sector up in march by 6%. That's UP!
- Lending 1B to Ecuador.

Czech -
Decapitated governance quickly scrambles agreeing to hold "early" election so they and EU don't look like the ridiculous torso they both are.
- Bans planned protest to welcome Obama and his nukes. Well, so long as freedom is intact.

EU -
Accuses Israel of a) further illegal land theft in Palestine, b) razing homes, and c) discriminating policies but issues arrest for Bashir, prez of Sudan. Not a typo! Bashir's crime? Much worse than Israel's. He didn't give oil to the great whites.
- Gnashing teeth over Russian bases in S Ossetia and Abkhazia. They didn't think they'd get away with siccing Georgia on Russia, did they?
- Mild discomfort spills like sewer across the greater lebensraum idyll: thousands Czech, Slovakian, Slovenian, Austrian, and Polish farmers protest in Prague, Czech Rep, the erstwhile seat of EU prez; 15K protest in Berlin and 14K in Frankfurt; 10K protest in Latvia.

France -
Boss kidnapping trend takes off. After Sony, and 3M execs, now it's Caterpillar's boss that's kidnapped to force the rich into talks with the workers. Watch, pretty soon west will roll out bosscops.

Germany -
Begging Iran for help with Afghanistan war. Wasn't Berlin one of those that repeatedly threatened Iran with nuke holocaust for over 8 yrs?

Greece -
Revolution against the west madness goes on. 3Apr, 2 cops attacked in Athens. Bombing has become a daily reality. Targets: banks and west biz.
- 2Apr, entire nation on strike! No flights, no school, no banks, just banners "No compromise" & "Capitalism must pay".
- Coordinated bombs shake Athens at 1am on 30Mar destroying 5 banks, car dealership, and a diplo car.
- Prez begs revolutionaries to spare the Acropolis and re-open it to tourism, business that's also dissipated from the revolt-torn nation.
Greece on general strike, 2Apr. Solidarity with Greek Heroes!

Iran -
USA defeat in Afghanistan forces USA to crawl to Iran for help. This turns EVERYTHING upside down flummoxing the west and forcing Obama to admit that "world is complicated now". Not only Iran's calling the shots now but west's gonna have to choose twixt Israel or self. This could easily precipitate another 911 falsie.
Ahmadinejad gives advice to west or as he calls it "the arrogant ones, the most corrupted people in history, and those that speak through violence": "stop the egotism, the aggression, and the lack of manners."

Israel -
War against Palestinian civilians continues unabated while the G20 war fiends pull faces for cameras in their used-car salesman threads. 31Mar, Israeli chopper kills 2 civilians in central Gaza.
- Some 10-12 Palestinians kidnapped by Israel forces.
Children are west's prime target. 1500 murdered by Israel, 100K homeless. And that's just for Dec08. And to top it, Israel maintains it committed "no crimes". USA also maintains that and in fact sends Israel more anti-children weapons. (For
more at abbc6.com)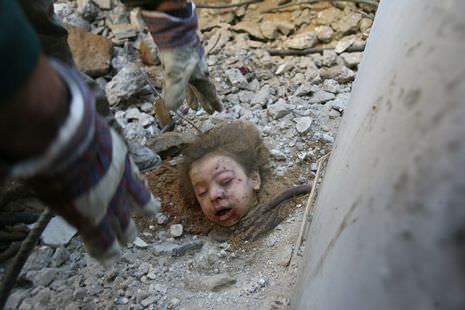 Make no mistake and never forget that down to the ugly aspertame-fed baboon trailer inbred squalor or the buzzword-prattling, tie-wearing scum hanging on to their cubicles they're all guilty! The west is the disease!
(more on Israel crimes at morpheusrevolutions.blogspot.com)

Japan -
Fueling USA aircraft for civilian bombing campaigns in Central Asia is paying off for the island:
- Unemployment at 4,4%.
- Toyota, Nissan, Honda post 3.8B, 2.8B, and 81% losses respectively and together zapping some 20K jobs.
- NEC zapping 20K alone.
- Wages down 3%. Overtime 20% slashed. Extra hrs wage slashed 50%.
- Output 10% shriveling per month.
- "Stimulus" at 10T JPY.
- Benefits gone for 77% of unemployed.
- Debt burden at 200% GDP. This means that if Japan didn't eat, paid no rent, used no electricity or water, it couldn't even pay more than half of just the interest on its growing debt. Nice! About time, Tokyo starts sending begging vids to China, Russia, or even N Korea.

Lebanon -
Clocks 4% growth. The next time west is likely to see the word "growth" it's gonna be in connection to despair, strife, poverty, unemployment, and those general areas.
- Getting jets from Russia.

North Korea -
Tells Japan, touch our satellite and it's "thunderbolt of fire" war.

Russia -
Testing Topol mid-April. Not a single complaint from Japan? That's funny! This also means that even the second Kissinger's begging trip to Moscow yielded no good results for west. Sidenote: Topol (poplar) is a solid-fuel 20m-tall mobile ICBM with range over 10K km, impervious to any west detection, much less hope of destruction.
- Pipeline explosion in Moldova knocks Balkan gas supply down 40%.
- No 5B loan to Ukraine after all, till Kiev explains wtf it's doing with EU molesting Gazprom pipelines. Germany quickly ceded and agreed to keep hands off till Russia approves.
- Chiseling down the plan to dump d0llar with China. West gripped by fear screams that "there's other things to discuss" other than its long awaited flush down the bog. That's true but after the flush.
- Gives USA a warning not to try again with Georgia.

South Korea -
Export down 21%.

Spain -
Car sales 40% down.
- Over 3,6M unemployed and climbing.
- Consolidation of assets underway. 2B pumped into a bank which then got eaten by Bank of Spain.
- Bush II henchmen (Feith, Addington, Gonzales, Haynes, Yoo, Bybee) on torture charges. Madrid may even issue arrest warrants. But since they somehow missed Bush, Cheney, and Rumsfeld, it's no more than more of the west empty blather.

Turkey -
Buying Russian Mi28 choppers.
- Over 140 arrested in the foiled "coup". After Erdogan walks out on the Davos west bigots telling Israel "I know very well how you hit and killed children on the beaches", Israel apparently had a plan to actually assassinate Erdogan.

UK -
Bank of England attacked, 1Apr.
- G20 plan to save west "surprisingly" has to do with extreme hyperinflation. West is printing 1T just for IMF, the west chief loan rapist, and trillions for other west necessities. But unless they plan to forge Yuans or Rubles, all the printing is pointless or "silly", as Hugo Chavez aptly termed the G20 charlatan ideas. All this is gonna do is eat up the whole Amazon basin. It really seems that west is floundering without any plan whatsoever as if no one at the many west helms really lived in reality or anywhere near it.
- Fiscal sector zapping 30K jobs. Yes, UK is still under the delusion the island has a "fiscal" sector.
- While G20 elite's in town deciding on how to carve up the planet, suddenly the street spy cameras were made illegal.
- 250B GBP being poured into trade sector. That's extreme hyperinflation at work.
Some 35K protest the G20 abomination in London. That's 6-7 protestors to 1 G20 cop.
(More on London G20 clashes)

USA -
Pentagon on the ropes. Urgently needs 3B for war against civilians in Afghanistan/Pakistan. Admits to over 600B war cost. These #s are however farce and probably the same order lie as USA casualties. Wars ran USA over 500B+/annum 3-4 yrs ago and a blank check policy for Pentagon has been in force for over 2 yrs now.
- After sending 17K and 4K in quick succession to Afghanistan, the west's 21 century Stalingrad, Pentagon needs 10K more troops.
- USA actually has the gall the offer "honourable reconciliation" to Afghanistan while surging occupational forces by tens of thousands. (see Afghanistan above for response to this int'l affront)
- Harasses N Korea with warships and threats over planned satellite launch.
- Obama reduces his boisterous threat to shoot at N Korea to an unidentified "stern" response.
- Moves fighter jets from Italy to Poland.
- Bank bailouts no longer revealed by US treasury. Quite, extreme hyperinflation needs no numbers.
- Another month, another record! 742K jobs zapped in March. That's 2M just in 2009! Sidenote: USA has some 27M labourers in mfg which shouldered the upside down pseudo-capitalist pyramid of some 100M wankers known as managers, office, and service labour. The base of this abomination is now eroding at nearly 10%/qtr and this rate is increasing at a whopping 17%/qtr. Yes, the unemployment rot is also exponential! Take the wars away, and it's still hard to imagine, given these rates, there won't be serious updates required in the atlas before the year's out.
- USA top court canonises land theft and rules that the 1.2M acres Hawaiian grab is just fine and no previous claims by natives need be honoured any longer.
- To be taxing time off from work. Now, there's a clever revenue source!
- Hussein Obama's warships stop in Georgia for a "number of cultural events". No joke! "Cultural events" is what the west calls the desperate re-arming of Georgia. Now, isn't repeating the same thing while expecting different outcome the very definition of insanity?
- California rips down tent cities near capital and herds the homeless into a makeshift camp. Are camps open for business in USA then?
- House prices down 20%.
- USA governance makes a web page teaching baboons how to deal with suicidal depression caused by the fiscal prolapse. Think it's a joke? Well, it is, but
not in USA
, there such lunacy in its screaming Hollywood glitter is commonplace.
- GM and Chrysler prolapsing despite zillions. Governance is out of cash though and fights erupt twixt west bankers, west execs, and west legislators. Most amusing.
- 29Mar, nursing home shot up -- 8 dead.
- 3Apr, NYC civic centre shot up -- 13 dead.
- Hugging and horse play twixt parents and kids forbidden in school under threat of expulsion and detention. Is USA mad? Yes, of course. They need troops, not families! Watch for giant assault in the west on family from every side.
- Obama unveils an extreme hyperinflation near 4T budget for next year. This is as meaningless as it's pointless. It's unlikely he could guess how many zeroes are in a trillion.
The new face of USA as the brave child murdering nation spring-cleans baboons into shanty towns.

Venezuela -
G20 plan to rescue prolapsed west by extreme hyperinflation explained down to the last detail by Hugo Chavez with two simple adjectives: "unreasonable and silly".
- Offers Arab oil monarchies to go off d0llar and create a non-west controlled petro currency. Sounds far fetched but if Arab oil monarchies don't go for this, they'll not only lose their shirt but far more. This completely turns the table on the west using the old USA monopoly against it. The only regret here is that the west is far too cretinous to enjoy and truly appreciate what's happening to it.
- No plans to restore relations with Israel so long as it's "genocidal and subordinate to USA."
- Deepening ties with Iran, Chavez's "second home", as he calls it, by creating joint bank venture and signing ~190 bilateral agreements. This further complicates the "complicated world" of Obama for he has to be nice to Chavez now as well. Perhaps another fun vid of many humble apologies to Caracas is in order from Warshington (sic).
Chavez to west: "Indict Bush, not Bashir". Considering the relative proximity of the names, could the confusing warrant issued by west be the result of a typo made by some west blond bimbo who was thinking about propping tits with silicone bags while he was typing it away?

Yemen -
After opening to Russian military, loading up on MiGs. Notice, not many west mates edge the west oil theft route today.
...to be cont'd as it piles up