4-11Apr09 -- News by news, knell by knell, fitting the west child murdering world with a fashionable yet cheap casket. (Mouseover flags for info)
Abkhazia -
Reinforces border with Russian military to keep the west crotch licking Georgia at bay.

Australia -
Unemployment rises to 6%.
- Prime shrivels to 3%, lowest in 50 yrs. But Aussies, like all west folk, get no break as the west-wide loan usury celebrates record profiteering.

Belarus -
Despite EU's rabid fang gnashing, going ahead with recognition of S Ossetia and Abkhazia.
- Getting Russian surface-to-air Triumf missiles.

Brazil -
Car sales 3% UP. That's UP!
- Finds more oil in Campos Basin.

China -
Displeased with USA rising spate of violence in which 4 Chinese nationals were killed.

Czech -
Some 80% of Czech Republic unites against the idea of turning the nation into a west nuke trench against Russia.
Prague decked out to welcome EU/USA war retinue.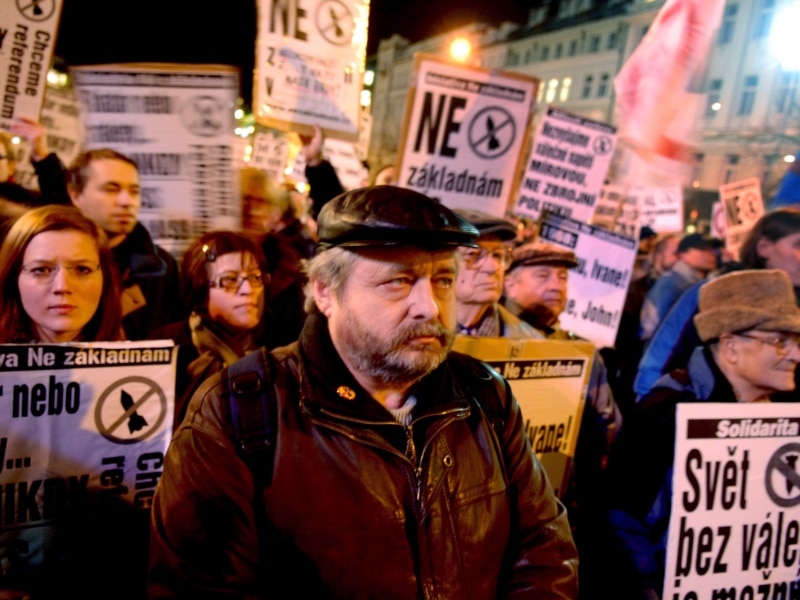 Sour protests take place despite snipers strategically spread throughout the no-fly zone city to host the EU/USA war party.

EU -
Obama's "complicated world" forcing Washington to suck up to Turkey drives a wedge twixt USA and EU. USA thinks Turkey wants to hear that USA backs Turkey's accession to EU. This, of course, angers EUnuchs exposing yet another fissure in the fragile west.
- Active prolapse doesn't stop the west war cabal from partying though. After G20 photo ops in London it was off to the NATO shindig in Strasbourg, France. And now it's a wall to wall piss up in Prague for the EU/USA summit. Everywhere their subjects welcome the party goers with increasing demonstrations.
- EUnuchs, angry with USA accounting practices, demand they be allowed to cheat too. EUnuchs have a point! It's unfair to compete unless everyone is allowed to fraud asset value, hide inflation, misreport unemployment, use blank cheque policies for difficult to explain stuff, etc. Sidenote: USA has just abandoned mark2market standard, which anchored asset prices in the market. Without it, the value floats random-like, allowing USA even less connection to reality. EUnuchs want the same. This just to highlight the desperation and collective folly of west. No amount of voodoo accounting can save the necrotic dollar world.

France -
NATO party crashed by violent protests.
- Sidling up to Russia begging for some way to invest in Russia and thus save west elite's loot. Sidenote: West "bailout" looting is nearing its end. Phase II is underway, in which west war junta will take the loot and try save it by converting it to anything and investing anywhere, even in west's erstwhile hardcore enemies. After that comes phase III, in which, the west will be unplugged.
- 3 Brits bossnabbed.
4Apr, NATO party, Strasbourg, France

Georgia -
Protests blocking roads to Tbilisi demand resignation of governance that made Georgia even smaller. Clutching to his delusions, Saakashvili vows to remain in power.

Germany -
Courthouse shootout leaves 2 dead.
- Karmann car firm goes belly up adding 7K to the growing unemployment pool.
- Nationalises Hypo. Sidenote: This, of course, is another falsie euphemism created by the west media truth rapists. Nationalisation implies socialism, communism, or some benefit to public. That's not the case here! West uses the word as a code for stealing public cash to pay for the rich elite's war investments that went awry.
- Production 20% down.
- Import shrivels 4%.

Greece -
Governance meets special forces to figure out how to crush the revolution. They figure that: nightly cop raids; deployment of 2500 state anti-revolution troops; 1300 more spy cameras in Athens; harsh punishments for wearing hoods or ski-masks is gonna do the trick.
- 2 cops shot and wounded in Athens, 10Apr.
- Another chain bombing in Athens, Thessaloniki, and Piraeus, 10Apr.
- Civil rights protest, 10Apr.
- School shootout, offender dead, 11Apr.
- Pensioners protest, 11Apr.
- More on Greek Revolt:
greeceriots.blogspot.com

India -
Getting nuke fuel from Russia. No threats by west to sanction and bomb India? Too big for the west child murdering coward, is it?
- Clashes again with Pakistan in Kashmir. Increasing mil build-up in Kashmir.

Iran -
Tells USA to disarm, if it's serious about its sudden peace overtures. It's crazy but apparently the braindead west has to constantly be reminded that it was USA that used nukes against civilian-only targets and TWICE and DELIBERATELY.
- Expands nuke fuel programme to 7K centrifuges.
- USA folds and chats up Iran begging for investments in Iran, to hive some of the west "bailout" spoils.

Iraq -
Another sign of USA rigormortis. Baghdad turns to Russia alluring it with oil. This must have the west war dogs barking particularly loud. Whatever happened to Bush II's: "if y'all don't help murder, torture, and rape, you ain't gettin' no oil"?
- Attack on USA occupying forces kills 5 USAns and 2 lackeys.

Ireland -
Pumps 90B EUR into its toxic crap. "Toxic asset" is just an euphemism for west's negative ROI on war investment.

Israel -
Gaza genocide has orphaned 1346 children.
- Deliberate murders of civilians and medical staff during Gaza assault confirmed by Physicians for Human Rights. The outfit is seeking indictments of Tel Aviv genocide architects.
- Receives more anti-children ammo from the good ol' USA, the chief sponsor of all genocides.
- Attacks Palestinian residents in Safu, 8Apr.
- 17 Palestinians kidnapped in West Bank, as Israel racist war against Palestine continues.

Italy -
Earthquake in L'Aquilla renders 2K hurt, 20K homeless, and near 300 dead. But zillionaire NWO rep in Rome, Berlusconi, sees the tragedy as a "camping weekend". Yes, disasters, war, mayhem, pain, suffering, death are all just a big joke for the west war junta.
- Some half a million protest in Rome, 5Apr.
- Production shrivels further 20%.
Giant protests against the west vampire in Rome, 5Apr.

Japan -
"Stimulus" plans swell to 15T JPY.
- Sharp zapping 1500 jobs due to its 130B JPY/yr loss.

Madagascar -
Rajoelina new gov't tears up S Korean 3M acre farming deal worth 6B USD.

Mexico -
Says "Not possible to pass tonnes of coke into USA without great complicity of some US authorities". Did they just realise that after USA vice prez family member was caught snorting coke?

Moldova -
10K protest storms parliament and prez office despite armed state cops. Perhaps another colour revolution from west since Georgia war proxy dream has vanished?
- Riot blamed on Romania and Romanian ambassador expelled.
10K protest in Chisinau, 6Apr

North Korea -
Launches satellite, 3Apr, clocking a few new int'l embarrassments for the west big mouths. Before the launch, Obama harassed N Korea with warships and threatened to shoot if they launch. As the launch neared, Obama had diluted the bully blather down to some undefined "stern" reply. After the launch, all Obama's managed was to scream for "someone to do something".
- China pisses off west for it takes no action other than telling west not to wet its knickers over the launch.
- UN held a customary emergency meeting on N Korea launch and after 3 hrs came to a castrated impasse.
- The typical "sanctions" word being deeply debated in west today as the stern response to N Korea launch.

Russia -
Test launches 500K-tonne warhead Topol ICBM. No threat quacking from west at all! In fact, not so much as a single peep was heard.

Somalia -
Wants 2M USD for USA kidnapped cpt. Think of it, cpt America, as a paid sailing weekend.
South Ossetia -
Building a direct pipeline to Russia severing dependence on prolapsing Georgia.

Spain -
Moves to criminal proceedings against 6 Bush II torture henchmen. Invoking "universal jurisdiction", apparently, they can be arrested and prosecuted if they enter EU. But how was Bush II left off the list when even the CNN war rogue has admitted to torture evidence link to the very USA top? Well, cuz it's all 100% west BS trying to placate some of the pent up angst.
- Unemployment touching 20%.

Sri Lanka -
Governance celebrates slaughter of hundreds of Tamil separatists.

Switzerland -
Destruction of banking, or in this case, the entire nation's economy, yields quick results: Swiss declares "depression".
- Prohibits USB bank execs to travel abroad after the bank secret accounting got raided by USA/US. Do they fear USA could torture them for more bank info?

Taiwan -
Pumping 4B USD into its econ afflicted with the unstoppable west rot.

Thailand -
ASEAN party crashed by protestors demanding governance resignation.
Bangkok protests

Turkmenistan -
Central-Asian pipeline feeding Ukraine and EU explodes. Under repairs at the moment.

UK -
Wank of Scotland zapping 9K jobs. What a fun bailout it was though.
- Car sales shrivel further 30%/month making UK car makers scream for free cash.
- Deficit up by 40B GBP that were somehow forgotten and left off the earlier budget. It's reassuring how meticulous they are even with small amounts, isn't it?
- Production shrivels 6,5%/qtr, biggest tanking in 40 yrs.
UK murders I Tomlinson during the G20 cop occupation of London. One murder was enough to set Greece ablaze. UK remains unmoved and NWO obedient.

Ukraine -
20K protest in Kiev.
- Governance sinks nation 15B EUR deeper into debt to their IMF master.

USA -
USA profile for fun: 45M illiterate; 50M read like 3rd graders; 240M cannot fill out tax forms alone; 32M on food stamps; 60M no medical care; 2M fired just in 2009; money supply doubled from 2000 to 2006; money supply doubled from 2006 to end of 2008; 27% (18 age +) or nearly 100M suffer mental disorders; 4M homeless includes 1M kids.
- Malls are issuing own currencies & selling them at discount to keep dollars home.
- Thermite (explosives) confirmed by Univ of Copenhagen in all WTC samples. Sidenote: Engines don't melt and vapourise from burning the fuel they're made to explode. Plus, air has 21% oxygen which doesn't allow for fire much hotter than 500C, some 900C short of turning steel into lava pools that remained in NYC for 8 weeks. That's why welders use O2 bottles. Finally, no Boeing, no matter how much it tries, can squeeze through a 3-metre hole. Simple facts and pics have always rendered the Bush II & cabal 911 tale totally ridiculous and as cretinous as the North Am baboon species that's swallowed it for 8 yrs. But now, there's hard science proof for those who require more than simple reason.
An incredibly boring vid with N Harrit, who confirms explosives in WTC makes the Danish mainstream TV. Though exhausting and repetitive in detail on nano-explosives, it fails to mention the most important thing here: USA did 911 100%.
- Mortgage delinquency up 50%/annum. 1 out of every 14 houses in active default.
- Obama revives his int'l embarrassment from a month ago as he once again threatens Freeworld with non-existent nukes.
- Fedex zapping 1K jobs.
- War twixt west kings and war financiers rages on. USA governance threatens with purges of bank board members.
- The world's greatest bully turns a pitiful begger: USA begs Turkey now to help with Iraq; lies prostrate before Saudi oil kings begging for kings to stay faithful to d0llar for a bit longer; on knees before Iran begging for to help with Afghanistan; begging Kyrgyzstan to let them stay a while longer; pleading with Russia to ease up on military spending and proliferation; imploring China not to dump d0llar just yet; beseeching UN to do something with N Korea and the rest of the growing "defiant" world; and about to go crawl to SouthAm.
- 2 banks join the west econ grave.
- Nearly 60 dead in 8 shootouts in 1 month.
- Nat'l deficit eclipses 190B USD just LAST month. That's another record. It's headed over 2T if USA makes the end of 2009, that is. That would be two more records.
- Obama quickly prints 83B USD more just for USA wars.
- The ghost town of Detroit is shutting down 23 schools.
- "Bailout" theft estimated at 4T now and is extended to insurance firms. This is highly suspect! Just twixt 4Q08 and 1Q09 Bush II and Obama collectively pumped over 1,4T into USA. But it hardly matters.

Venezuela -
Developing South Pars oil in Iran.
- Launching bank with Iran.
- Creating joint oil shipping company with Iran.
- Prolapsed Japan crawls to Venezuela offering 33B USD for any investment, seeking deals and Caracas friendship.
Chavez summarises: on G-20 trillion prints, "same medicine that's killing the patient" & "more money down the bottomless pit"; on IMF & WB (world bank), "tools of imperialism", which must be "eliminated"; on capitalism, "it needs to go down"; and on USA & UK: "the most guilty".
...to be cont'd as it all piles up.